Donald Trump isn't taking his ban on Facebook very well. So, the former president started a really crappy blog that you can't comment on, and it's just for him so that he can feel like a big boy. It's located at donaldjtrump.com/desk, and it comes with a feature to donate to the twice-impeached one-term president. Trump found his safe place in a little corner of the web after being deplatformed for inciting the deadly Jan. 6 insurrection. After Trump's personal account was shut down, he tried to come back to Twitter using the POTUS account, but that, too, became restricted.
A new account was created that links back to the Twitter-addicted former guy's weird blog, and people are reporting it in droves. Interestingly, Donald Trump Jr.'s gal pal Kimberly Guilfoyle shared a tweet from the newly created Twitter account. Now, we're not saying that it's Trump behind that account, but it would be on-brand for Trump to try to go around the ban on the social media behemoth since he's done it before.
Guilfoyle shared this tweet from the account with a video that whines about his Twitter ban.
https://t.co/0rWbIyXO4E pic.twitter.com/DqNnScQyKH

— The Desk of Donald J. Trump (@DJTDesk) May 4, 2021
And of course, Twitter users are reporting the account.
Hay @twitter @TwitterSupport #BanEvasion again.

— Devin Nunes' cow 🐮 (@DevinCow) May 5, 2021
Stay up-to-date with the latest news!

Subscribe and start recieving our daily emails.
@Twitter @TwitterSupport @jack Come and get this account – looks like a certain someone is trying to get back on Twitter…

— Champagne Blonde (@ChampagneSane) May 5, 2021
Remember when you had to use this device after Twitter banned you?
Hahahah Good times, amirite 😀 pic.twitter.com/Q0oCRX07j3

— 🇺🇸🎭The tragic comedy show. Starring all of us. (@potato4_sweet) May 5, 2021
— LucyTheChiRat (@LucyTheChiRat1) May 5, 2021
Make it go away, @Twitter @TwitterSafety @TwitterSupport.#BanEvasion

— Swanee (in memoriam) (@JaySwansonPool) May 5, 2021
HAHAHAHAHAHAHAHAHA

Clown.

— nelson patterson (@nelsonpatthemeh) May 5, 2021
— K.C. Banks – Proud Dyslexic (@kenbax47) May 5, 2021
@twitter @twittersupport John Barron is at it again.

— Agnostic Space Laser (@iwvnews) May 5, 2021
Dear @jack ,
For the love of god, please remove @DJTDesk from Twitter. You cannot allow this pathological liar to have a voice here.
Please, Jack, do the right thing here and follow FB's lead. If they can do it, YOU can do it!!!#RemoveTrumpJack

— SusanZ (@SZisStillMad) May 5, 2021
Hey Jack @Twitter.
We've got a problem.
The former guy is tweeting from @DJTDesk.#RemoveTrumpJack

Dear friends, please help spread the word.

— Gibby Wants Justice (@SaintRobin911) May 5, 2021
Of course, Trump could create an account on far-right-wing platforms like Gab or Parler, but his narcissistic brain can't handle that he was rejected on Twitter, Facebook, and Instagram. Just let it go, dude.
Update: The account was just suspended. Bye-bye!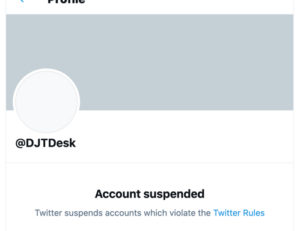 Featured image via Gage Skidmore/Flickr, under Creative Commons license 2.0
Can't get enough Political Tribune? Follow us on Twitter!
Looking for more video content? Subscribe to our channel on YouTube!