Conservative men love to accuse powerful women of "sleeping their way to the top." It's been a common tactic among sexist, misogynistic little boys since probably the dawn of time, as it dehumanizes and weakens the opposite sex in their minds and allows them to believe that male success is powered by hard work, grit, and determination while women, even in the workforce, are still reduced to only their genitals.
Men like this will find a way to accuse women of these sorts of things no matter who she is, no matter the topic at hand.
Even if the woman is literally the Vice President of the United States, and the man is ranting about drinking straws.
Oklahoma state Sen. Nathan Dahm recently marked Earth Day by using a piece of legislation about drinking straws to make false, disgusting, sexist, and downright derogatory implications about Vice President Kamala Harris in an official press release.
Dahm announced his legislation that would ban the use of paper straws in establishments because he doesn't like them. But evidently, the ridiculousness of a piece of legislation centered around a straw wasn't bad enough, as Dahm used this legislation to make a very thinly-veiled allegation against VP Harris, essentially implying that she slept her way to the success she enjoys today.
Stay up-to-date with the latest news!

Subscribe and start recieving our daily emails.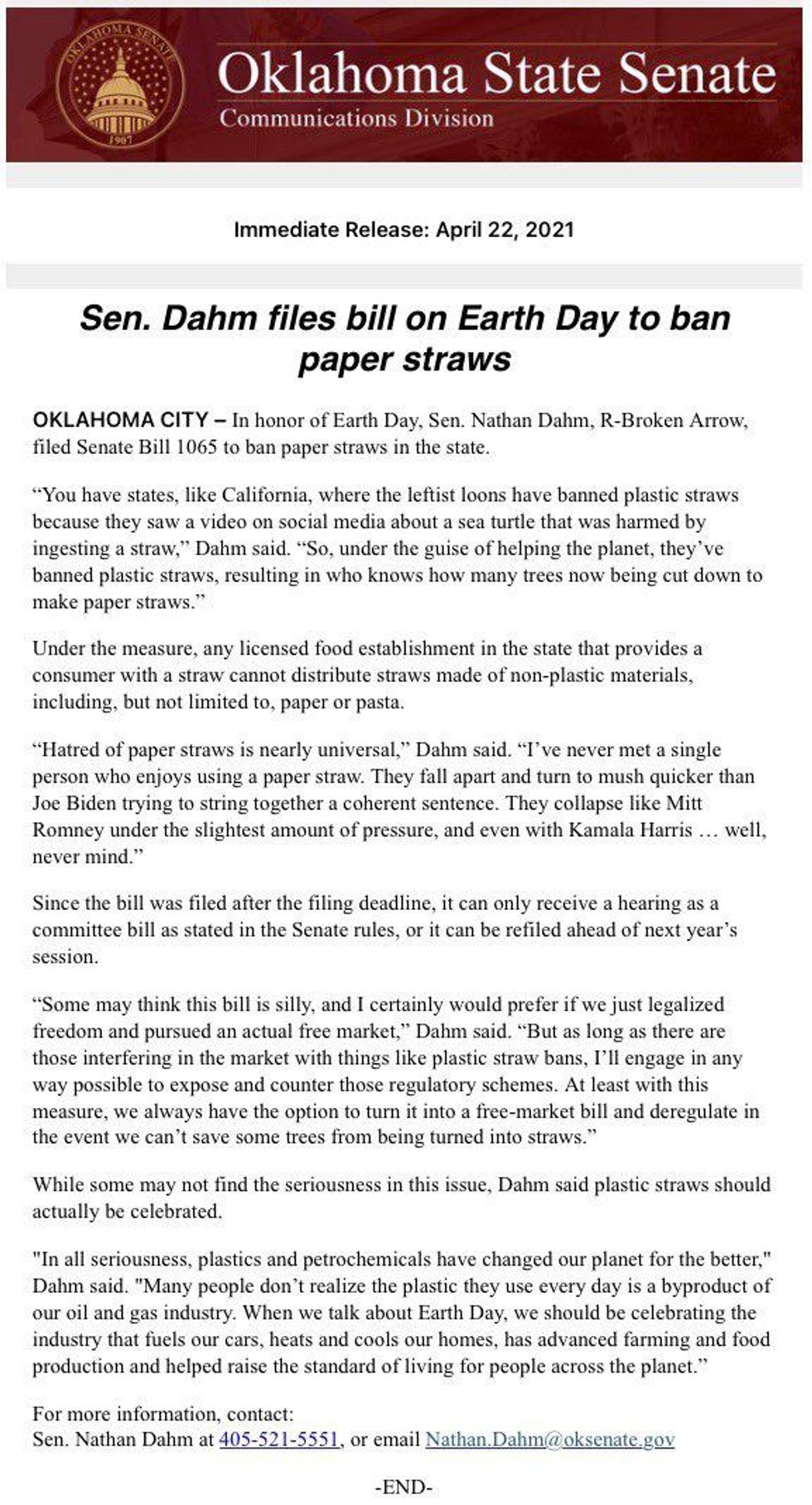 "So, under the guise of helping the planet, they've banned plastic straws, resulting in who knows how many trees now being cut down to make paper straws," Dahm's statement reads. "I've never met a single person who enjoys using a paper straw. They fall apart & turn to mush quicker than [President] Joe Biden trying to string together a coherent sentence. They collapse like [Sen.] Mitt Romney (R-UT) under the slightest amount of pressure, & even with [Vice President' Kamala Harris well, never mind."
Dahm then participated in an interview with KTUL and only doubled down on his disgustingness when asked about the derogatory comment.
"There's a lot of different things that could be said about that with her vast experience and how she got her start into politics," the Republican senator said. "In talking with some people, one thing that could be said, you know, you can't use a paper straw for a milkshake, but maybe Kamala Harris could because of her past experience."
Here's the video of Oklahoma state Sen. Nathan Dahm directing a completely false, sexist and derogatory statement at Vice President Kamala Harris

(H/t @Erin_Christy @TylerButlerKTUL ) pic.twitter.com/LQMHV7gmGu

— Reese Gorman (@reeseg_3) April 23, 2021
Dahm ultimately addressed the criticism he received for the derogatory remarks in a tweet and, like a good little Republican does, he only served to make it worse when he seemed to imply that it was a "joke":
BREAKING: if you think I'm going to be "politically correct" you need to realize a few things.
1) you obviously know nothing about me
2) you're in for a bad time
3) I've been assured my jokes are hilarious
4) your emotional opinions are irrelevant

— Nathan Dahm (@NathanDahm) April 23, 2021
Republicans have a tendency to screech "But I was joking!" when they find themselves called out for something disgusting they've said or done. But despite Dahm's claims that his derogatory statement was made in jest, he never once laughed or even seemed to insinuate that he wasn't serious about it during the interview — much less did he apologize for the statement.
As you can imagine, no one was accepting his "joke" excuse:
Making a blowjob innuendo in an interview, as an aside to your official duties, while your website profile highlights your Christian missionary upbringing is really unfortunate.

This isn't an emotional opinion, Nate. This is you falling short of your own mark.

— Blake N. Behrens (@BNBehrens) April 23, 2021
His mom says he's funny, guys

— Ben Buehler (@sourcerolls) April 23, 2021
I never assumed you to be politically correct, but I did think you professed to be a Christian. Wonder what Jesus would think of your completely inappropriate 7th grade level "joke".

— Miss May (@MissMayOKC) April 23, 2021
Yah, imagine people expecting you to not act like a small teenagers seeing tits for the first time. Imagine people expecting you to be… oh say, professional. Craziness I know. Turns out, you're just a arrogant jerk. Oklahomans will simply cancel you and expect nothing further.

— J (@thatgirl405) April 23, 2021
How many former Bible School Deans does it take to make a blow job joke in public? One, but he forgot to call it sodomy.

— Lawyer to the Not So Rich and Famous (@chriswcotner) April 23, 2021
Normal people don't have to be "assured their jokes are hilarious." If you had to ask, it's clear you're not sure and have yes people around you.

— Melissa Bellan (@BellanMelissa) April 23, 2021
For the record, Vice President Harris got her undergraduate degree at Howard University and her JD at the University of California at Hastings. She first worked at a prosecutor's office before she was elected as the District Attorney for San Francisco. She served in that position for 7 years before being elected to the office of the Attorney General and then to the U.S. Senate, where she would then go on to hold her own as a presidential candidate and ultimately the Vice President of the United States.
Nathan Dahm graduated from A Beka Christian Academy Home School. You're not on her level, buddy. Take a seat.
Featured image via Flickr/Gage Skidmore, under Creative Commons license 2.0
Can't get enough Political Tribune? Follow us on Twitter!
Looking for more video content? Subscribe to our channel on YouTube!