***Political Tribune cannot, with any certainty, verify the legitimacy of the following report***
Since last week's riot at our nation's Capitol building, perpetrated by a large number of pro-Trump insurrectionists, the fate of the remainder of Donald J Trump's presidency has been up in the air. On Wednesday, the people of this country watched in horror as Trump's rabid base violently stormed one of the single most important buildings in this nation, defaming the property and launching an attack on the United States' very democracy; all while Donald Trump watched with alleged satisfaction.
There simply is no questioning the role Trump played in the act of domestic terror we all witnessed being played out by the very supporters he has egged on for the past several weeks. Trump spent months ahead of the election sowing doubt in his base about the security and legitimacy of our Democratic process. Once the election was over and Joe Biden was declared President-elect of the United States, his thinly-veiled calls to action only served to get worse. In fact, Trump quite literally delivered a rally speech to his people just before the riot began.
While he did send out a few watery tweets to discourage the violence and one video message in which he told these insurrectionists that he loved them, they're special, but they should go home, it did absolutely nothing to staunch the violence nor atone for his behavior before and after the attack that led to the defaming of our Capitol building and threatened the lives and safety of every member of Congress.
As the dust settles around the attack, members of the government have tried to determine the best course of action moving forward, as many feel that Trump simply cannot be allowed to get away with this. House Speaker Pelosi has made it clear that either Vice President Mike Pence invokes the 25th Amendment against Trump, or Democrats move forward with impeachment. With Trump and many of his people now banned from multiple social media platforms, it's left many to wonder just what exactly is going to happen.
And now… This.
In what could be a purposeful move or simply nothing more than a mistake or a hack, the official State Department website now says that Donald J. Trump's presidential term ended today.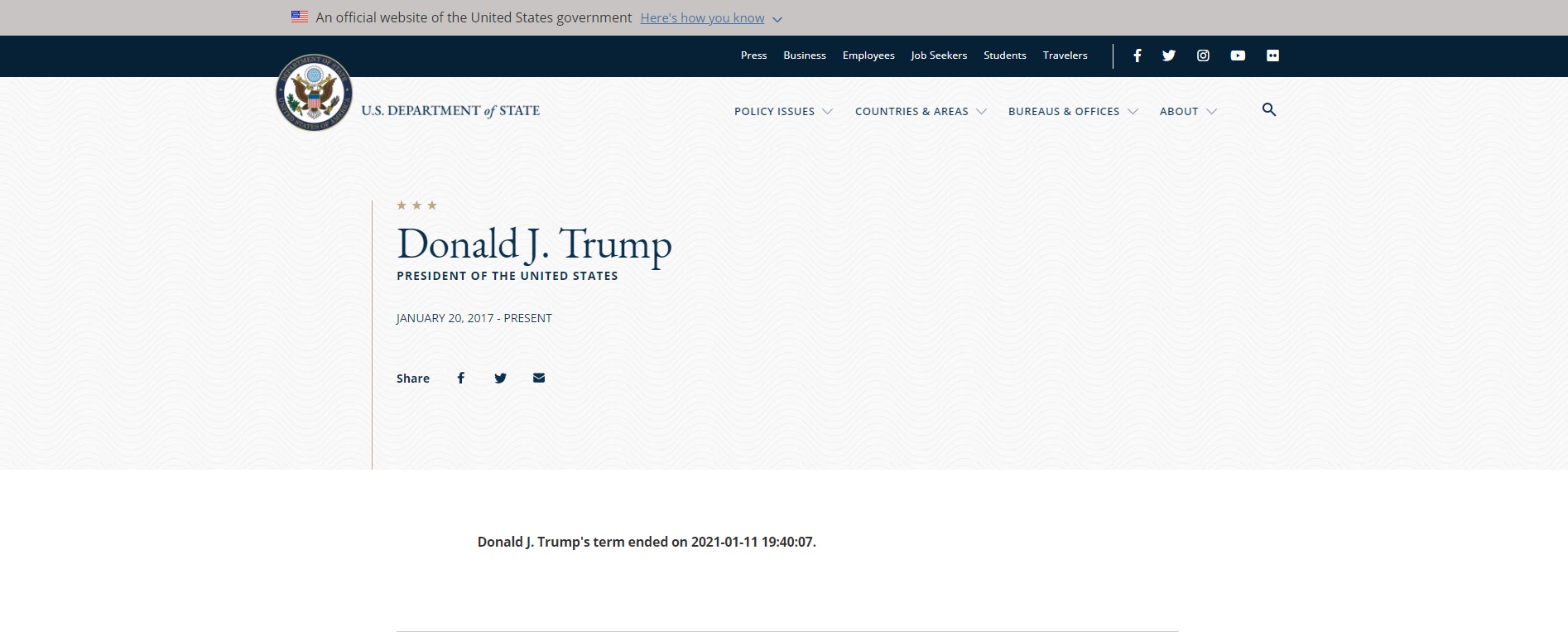 The link to the website is here.
Again, Political Tribune has been unable to verify if this was a purposeful move as a result of a resignation or the 25th Amendment, or if the site was hacked, or a mistake was simply made. However, knowing all that we do, it's certainly true that anything is possible.
We will update as more information comes available.
***UPDATE***
Buzzfeed reporter Christopher Miller says a source has told Buzzfeed News that a "disgruntled staffer" is behind the changes to both Donald Trump and Mike Pence's altered biography's on the official State Department website.
UPDATE: Sources tell @BuzzFeedNews a "disgruntled staffer" is behind the State Department site's change of Trump and Pence's biographies. More TK. https://t.co/5Gbb3cEhRK

— Christopher Miller (@ChristopherJM) January 11, 2021
Featured image via Political Tribune gallery
Can't get enough Political Tribune? Follow us on Twitter!
Looking for more video content? Subscribe to our channel on YouTube!