Frankly, the way Donald Trump fills his days now that he's once again a private American citizen isn't much different than when he was "serving" as the worst president we've ever had the displeasure of knowing — there's a whole lot of golf. Trump spent so much time on the links during his 4-year term that there were literal websites dedicated solely to counting the hours that the man spent putting a ball instead of doing an actual governmenting, and now it certainly seems that he's not looking for any big life changes now.
Especially now that Trump has been silenced on every social media platform from Twitter to YouTube, he's not been making much noise with the public. Even on the heels of his acquittal in the Senate, Trump spent his Valentine's Day Sunday on the links at the Trump International Golf Club in West Palm Beach — a stark difference from his White House red carpet walk and nasty speeches right after his last Senate acquittal.
Trump was even notably absent from his wife's Valentine's Day message that she posted on Instagram yesterday.
The former First Lady took to her social media account and posted pictures showing how she spent the holiday of love with sick children during her time in the White House but made no mention whatsoever of her "beloved" spouse.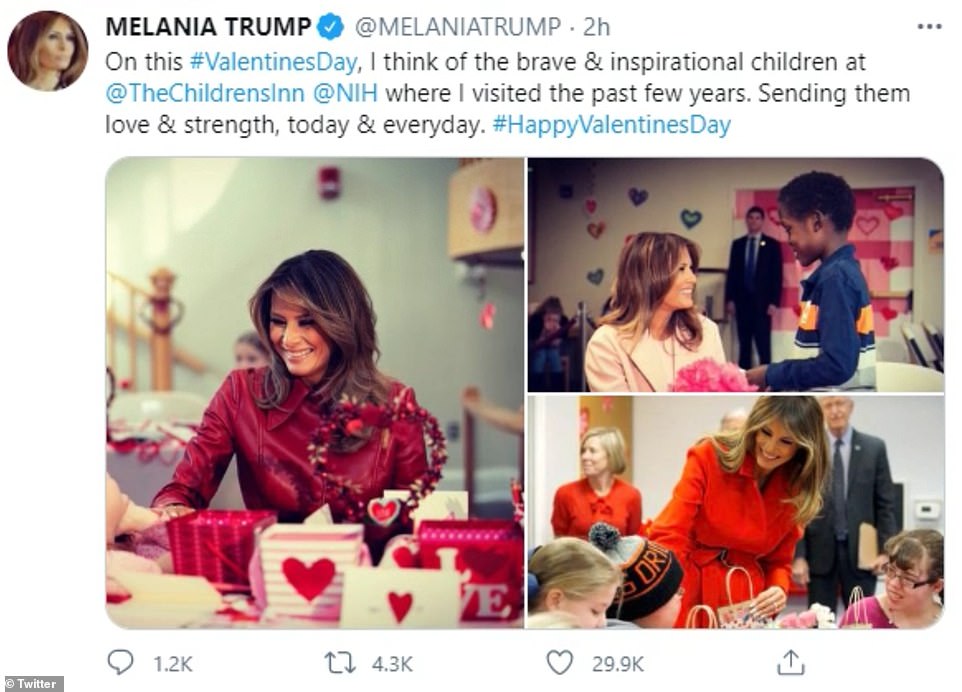 Trump did issue a statement following his Senate acquittal, saying, "Our historic, patriotic and beautiful movement to Make America Great Again has only just begun."
It's been pretty clear that even as a disgraced former president, Donald is still eager to get back out in the political limelight. However, a report from The Daily Mail indicates that the former First Lady is enjoying a life of leisure now that she's no longer in that position of power.
"She goes to the spa, has lunch, goes to the spa (again), and has dinner with Donald on the patio," a source told CNN.
Another source said, "It is not unusual for Trump to spend several hours a day there [at the spa], enjoying the benefits at her disposal, often going twice in a 24-hour period, for massages, nail care, facial treatments or other items on the menu."
Both sources state, "the former first lady has mentally all but left Washington behind, unlike her husband."
Featured image via Political Tribune gallery 
Can't get enough Political Tribune? Follow us on Twitter!
Looking for more video content? Subscribe to our channel on YouTube!