With the 2020 presidential election literally just a few short days away, yet another image has popped up on social media, quickly making the rounds, that allegedly depicts a massive crowd at one of Donald Trump's recent MAGA rallies — something he's quite literally holding daily, sometimes multiple times a day, at this point.
The photo in question claims to be from the President's October 16th rally in Florida, a major battleground state for Trump, at Ocala International Airport. Over 5,000 people were in attendance at the "Make America Great Again" event.
Trump-friendly social media users were quick to circulate the image that shows thousands of people standing on a bridge near water.
"Trump rally in Florida, I don't care what the polls say!" one October 17th Facebook post featuring the image in question read.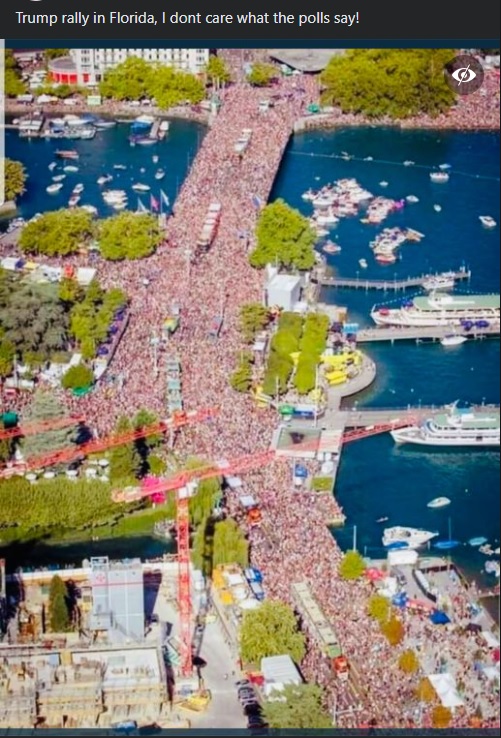 "Ocala…Trump rally!" said another post with the image attached that's been shared more than 800 times across social media.
Here's the kicker, though.
A fact-check from USA Today has proven that the image of people on a bridge attached to these less-than-humble brags about the crowd size at Trump's rally isn't a photo from a Trump rally at all — Surprise, surprise.
According to the fact-check report, a reverse Google image search proves that the photo Trump supporters are using to boast of their Dear Leader's crowd size is actually a photograph of a music festival in Switzerland called "Street Parade."
The website for the music festival shows that the photo was originally taken at Zurich lake back in 2018. If you visit the website, several other similar bird's eye view images are available of the event.
USA Today reports, "While the Trump rally did have thousands in attendance, the festival in Zurich brought in over 850,000 people in 2019, according to a media release from Street Parade."
The publication closed out their fact-check report with the following:
We rate this claim as FALSE, based on our research. The image is from a music festival in Switzerland that attracted hundreds of thousands of people, not a Trump rally in Florida. The same photo has been previously used to misrepresent events."
Try again, suckers.
Featured image via Flickr/Gage Skidmore, under Creative Commons license 2.0
Can't get enough Political Tribune? Follow us on Twitter!
Looking for more video content? Subscribe to our channel on YouTube!