If you recently found yourself thinking that Republicans couldn't possibly get any worse… Think again.
Recently, Tesla owner turned new Twitter owner Elon Musk made a giddy, dramatic display out of publicly releasing the details of the social media platform's previous content moderation processes under the prior owner, Jack Dorsey.
As part of that ordeal, which honestly turned out to be little more than a pathetic dud, in the end, Musk released a lot of the literal content that was moderated, throttled, removed, or somehow otherwise suppressed on Twitter — much of which was in regard to… You guessed it… The notorious Hunter Biden.
This, of course, sent the Conservative crowd absolutely screaming from here to kingdom come over the notion that the social media platform had suppressed information about the now-president's highly-controversial son, which the Right claims played a large role in costing Donald Trump the 2020 presidential election to Joe Biden because no one saw this "damning info" about Hunter.
Stay up-to-date with the latest news!

Subscribe and start recieving our daily emails.
Now, that same crowd has taken it upon themselves to spread that info far and wide like the good little vigilantes they think they are — which has ultimately resulted in a sitting United States Republican senator sharing a literal nude image of an individual far and wide across social media, without their consent, in what many are labeling as "revenge porn."
Look, it's no secret that Hunter Biden has had a hard go at life. The president himself has readily admitted as much and we've seen, first hand, the lengths Joe Biden has gone to in an effort to help his struggling son. But no matter what Hunter Biden has or has not done in his life, no one deserves this.
Texas Republican Senator and Cancun's finest Ted Cruz recently took to social media where he openly and blatantly spread an image of what was purported to be an image of Hunter Biden that was allegedly acquired from the infamous laptop, showing the first son in a compromised position, lying naked on a couch, with his genitals visible, while lighting a pipe.
Ted retweeted the image from a 2020 post by former Daily Caller writer, Greg Price, featuring a screenshot of an October 2020 post by James Woods. The original image from Woods was constructed to look like a pro-Biden campaign ad, reading, "I'm on Team Joe," and featuring the upsetting nude image of Hunter Biden.
Cruz retweeted the post and image with only an emoji of eyes.
The below screenshot has been censored to protect the first son's privacy. Cruz's image was not censored: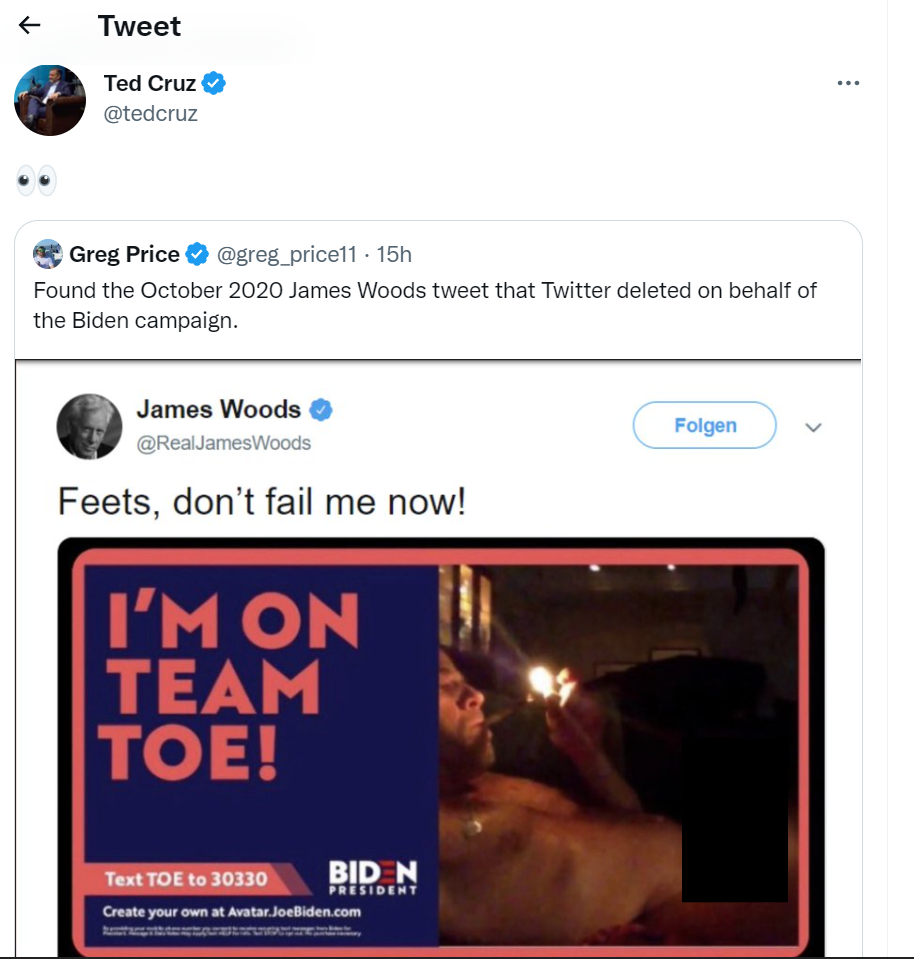 Politics will be politics, and politics can certainly be nasty. But this… This is an irredeemable low.
Featured image via screen capture 
Can't get enough Political Tribune? Follow us on Twitter!
Looking for more video content? Subscribe to our channel on YouTube!