We knew it was coming, folks. We knew it was only a matter of time, as soon as we heard that Biden Attorney General Merrick Garland would be holding an impromptu press conference today before Donald Trump was out here losing his mind all over the American public.
And boy… Did he deliver, y'all?
Merrick Garland spoke out for the very first time this afternoon since news broke on Monday that law enforcement agents with the Federal Bureau of Investigation raided ex-President Donald Trump's Palm Beach Mar-a-Lago compound in connection to a search warrant issued against the estate that Garland confirmed was personally signed off on by him.
In case you missed that quick presser, Garland took that opportunity to brutally confirm Donald Trump's worst nightmare.
Following multiple public calls and demands made by the American people and various overwatch entities, Marrick Garland used the opening statement of today's briefing to confirm that the search warrant against Donald Trump's Palm Beach, Florida, Mar-a-Lago resort and home would officially be unsealed. Garland was able to make this call, ironically enough, on the basis that Donald Trump himself has already publicly confirmed that the raid took place in the unhinged rant he released to CNN and on his social media platform in the direct aftermath of the search.
Stay up-to-date with the latest news!

Subscribe and start recieving our daily emails.
This, of course, stands in direct contradiction to the ex-president's vehement refusal to do just that, with NBC News recently quoting a close Trump insider stating, "No, we're not releasing a copy of the warrant."
Now, it looks like Trump doesn't get a say in it either way.
And you can bet your last dollar, he's not a happy camper about it.
Trump's response to Garland's presser was almost as immediate as it was angry:
I continue to ask, what happened to the 33 Million pages of documents taken to Chicago by President Obama? The Fake News Media refuses to talk about that. They want it CANCELED!"

But he didn't leave it at that. Not even close:
My attorneys and representatives were cooperating fully, and very good relationships had been established. The government could have had whatever they wanted, if we had it. They asked us to put an additional lock on a certain area – DONE! Everything was fine, better than that of most previous Presidents, and then, out of nowhere and with no warning, Mar-a-Lago was raided, at 6:30 in the morning, by VERY large numbers of agents, and even 'safecrackers.' They got way ahead of themselves. Crazy!"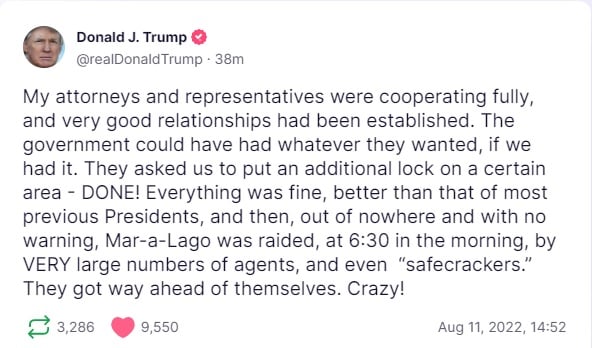 There was more still:
….Just learned that agents went through the First Lady's closets and rummaged through her clothing and personal items. Surprisingly, left area in a relative mess. Wow!"

This, ladies and gentlemen and nonbinary friends, is Donald J. Trump's panic and fear on full display, for all of the world to see.
He's scared. He's hopeless. He's desperate. And he's screwed.
Featured image via Political Tribune Gallery 
Can't get enough Political Tribune? Follow us on Twitter!
Looking for more video content? Subscribe to our channel on YouTube!