If there's one thing in this world that Donald Trump is damn good at, it's digging his own hole past the point of return.
Just recently, a New York jury delivered a historical verdict against the scandal-ridden ex-president, after only just a few hours of deliberation, officially finding Donald J. Trump liable for sexual battery against world-renowned writer and advice columnist, E. Jean Carroll — who has accused Trump of sexually assaulting her in the dressing room of a Manhattan department store in the 1990s — in Carroll's civil sexual assault case against the ex-president, under New York's relatively new adult survivor law.
Instead of doing what most any normal person would do in a situation such as this and keeping his head down and his mouth shut about the whole ordeal, considering the charges and legal peril are racking up against him at an alarming rate at this point, Trump has taken a complete opposite tactic, as he does with everything in his life.
Donald Trump has continued to repeatedly slander and defame Carroll in every public setting and platform he can reach, despite the fact that he's literally been found guilty of defaming her in a court of law and ordered to pay Carroll $5 million in damages.
Stay up-to-date with the latest news!

Subscribe and start recieving our daily emails.
But nevertheless, Donnie perseveres, with something new and even more disgusting to lob at the American writer with each passing day.
Now, it seems that the former president has taken to suggesting that his sexual assault victim is actually his "stalker."
In a demented post on his Truth Social platform this week, Trump posed the question, "Is she, in actuality, a stalker?"
The former president's musing came with a screenshot of a 2012 tweet by E. Jean Carroll, in which she said she was a "fan" of Trump's defunct reality TV show, The Apprentice.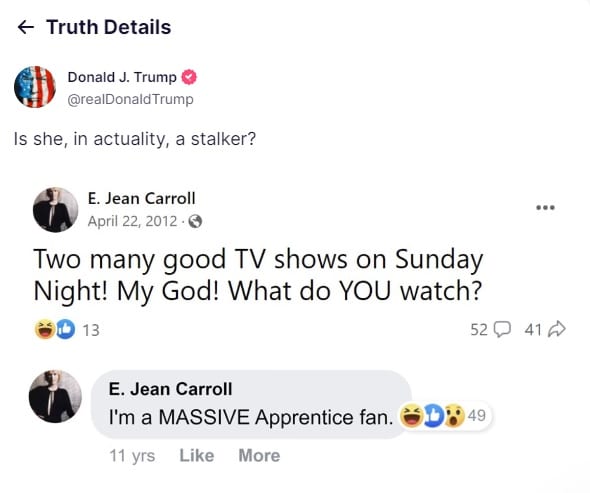 Trump's inability to stop running his mouth, if his life depended on it, has already come back to bite him in the ass, as Politico reports that Carroll is now "seeking at least $10 million more in a court filing Monday that seeks to hold him liable for remarks he made after the verdict," including public remarks Trump made regarding Carroll and the assault during his unhinged CNN town hall.
Featured image via screen capture 
Can't get enough Political Tribune? Follow us on Twitter!
Looking for more video content? Subscribe to our channel on YouTube!