In his 76 years of life, I truly don't believe Donald J. Trump has ever been in a worse place — physically, legally, and mentally.
Ever since the moment Trump was kicked out of office and was no longer protected and shielded by the powers of the United States presidency, countless entities came for him with the full force of the law behind them. The lawsuits, probes, and investigations are impossible to even keep up with at this point, and they continue to mount with the quickness.
But what was already a bad post-White House personal and political life has recently crescendoed into a catastrophic fever pitch for the former president in recent weeks, as everything around him seems to reach its breaking point.
And Trump simply is not handling it well.
Stay up-to-date with the latest news!

Subscribe and start recieving our daily emails.
As the brutally damning investigations into him personally, as well as his family business, develop past the point of return all around him, the scandal-ridden former president has once again taken to his struggling Truth Social platform, where he engaged in one of his most insane, unhinged public breakdowns we've seen to date.
This time, the former president isn't just whining about his victimhood in the incessant "witch hunts" against him. Instead, he took to Truth Social with a full-on manic temper tantrum against the prosecutors and investigators who are conducting these damning probes against him.
He kicked things off with an attack against the prosecutors in New York, who have brutally prosecuted Trump Organization's longtime CFO Allen Weisselberg, complete with multiple unfounded claims that the NY criminal case against his family business is "falling apart."
"There was no gain for 'Trump,' and we had no knowledge of it," the former president fumed. "Even the media is saying that if we are treated fairly, always a big question with me, we win."
Trump then devolved into a rant full of claims that law enforcement officials in New York are blatantly ignoring violent crime in the area to instead focus on him.
"This Witch Hunt has cost NYC $millions & $millions at a time when violent crime in New York has reached an all time high," the former president raged before going on to scream, "Went through 8 million pages of Documents and found NOTHING. Focus on MURDER!!!"
For the record, crime in New York is not at the all-time high that the state saw in the 1980s and 90s.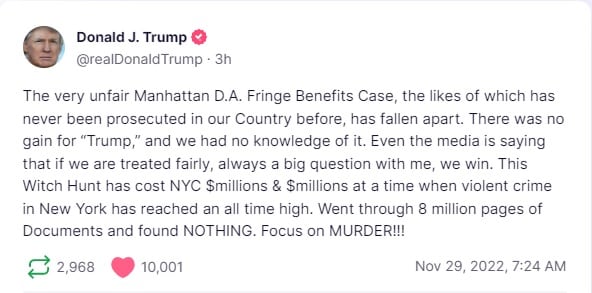 Trump is falling apart right in front of us.
Featured image via Political Tribune Gallery 
Can't get enough Political Tribune? Follow us on Twitter!
Looking for more video content? Subscribe to our channel on YouTube!