Eddie Lubic, owner of Uncle Eddie's Ristorante in Jupiter, Florida, doesn't appear to want Biden supporters at his eatery. A sign just inside the restaurant reads, "Only serving Patriots of the USA. If you are still a Biden supporter, this restaurant is not for you," the Palm Beach Post reports.
Unfortunately for the owner, Eddie Lubic, his public anti-Biden stance backfired, and he ended up with fewer customers and reviews poured in on Yelp and Google. The replies from the restaurant to negative reviews read, "fake review."
"But serving up braciole with a side of Tucker Carlson baloney has proven to be a learning experience for restaurant owner Eddie Lubic," the Post's Frank Cerabino writes.
"I gained some, but I probably lost more people than I gained," Lubic said. "The message was too heavy for the guys on the Left."
Stay up-to-date with the latest news!

Subscribe and start recieving our daily emails.
He added that it has been difficult for his staff.
"My hostess is 19 years old. People call her 100 times a day, and they curse at her," Lubic said. "They're relentless."
It was a pretty weird stunt to pull in Palm Beach County, a county that supported Biden over former president Donald Trump by a margin of 56-to-43 percent in the November 2020 election.
"I just can't stand looking at him," Lubic said of Biden. "This guy's killing the country. Did you see him today with the Teleprompter?"
Trump, by the way, used a teleprompter.
"Maybe I made a mistake," Lubic admitted, then he doubled down with his new sign.
"We are only serving Patriots of the USA vaccinated and unvaccinated," his new sign reads. "Question … In light of the Afghanistan debacle and the border crisis, do you still support Sleepy Joe and the corrupt White House administration?"
"I'm not saying Republicans. I'm not saying Democrats," Lubic said, even though that's exactly what he was doing.
Lubic, 62, admitted that he contracted COVID-19, and yet he's anti-mask, too.
"Masks are ridiculous," he said. "The stupidest thing I've ever seen."
Cerabino sees this as a good thing.
"In a way, Lubic is unintentionally doing a lot of people in the area a valuable public service," he writes. "Let's face it, trying to eat amid a room full of Trump dead-enders and self-anointed "patriots" is bound to lead to agita, not to mention putting you at heightened risk of being among the recklessly unvaccinated."
Here is one of the hilarious Yelp reviews for Lubic's restaurant: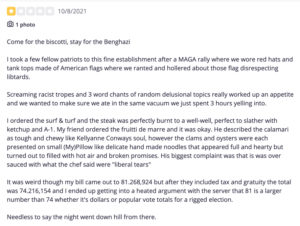 Featured image via Gage Skidmore/Wikimedia 
Can't get enough Political Tribune? Follow us on Twitter!
Looking for more video content? Subscribe to our channel on YouTube!