According to hilarious new reporting from The Daily Mail, members of Donald Trump's West Palm Beach golf club were left quite surprised — though, not quite shocked — upon learning that the former president had claimed the victory in the resort's senior club championship. Now, in and of itself, it's certainly not all that surprising that Trump won a golf tournament at his own golf property. In fact, one really wouldn't expect anything less. However, guests were really given a jolt over this particular Trump golf victory, considering the big guy was actually 600 miles away at the time of the event.
Sources familiar with the ordeal told the tabloid that competitors were a bit taken aback when they arrived at the Trump property for the second day of the event, only to find the former president's name at the top of the leaderboard for the competition, with a 5-point lead over the overnight leader, despite the fact that he was somewhere around 600 miles away from the resort, attending "Diamond's" funeral in North Carolina.
It seems Trump told guests and competitors that he played a cracking round on Thursday that would serve as his scores for the first day, while he was out of town for the Right-wing vlogger's funeral service.
To make things even funnier still, Donald actually took to his Truth Social platform to brag about his win:
A great honor to have won the Senior Club Championship at Trump International Golf Club, one of the best courses in the Country, in Palm Beach County, Florida. Competed against many fine golfers, and was hitting the ball long and straight. The reason that I announce this on fabulous TRUTH is that, in a very real way, it serves as a physical exam, only MUCH tougher. You need strength and stamina to WIN, & I have strength & stamina – most others don't. You also need strength & stamina to GOVERN!"
Stay up-to-date with the latest news!

Subscribe and start recieving our daily emails.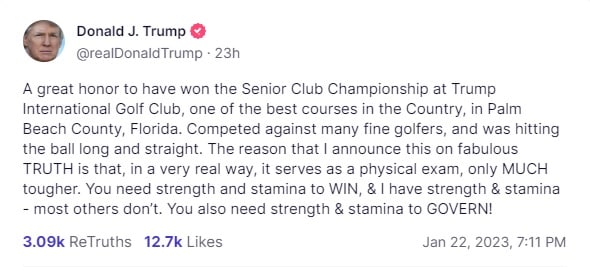 This is far from the first time Donnie has screwed his own crowd out of a tournament… Or 20. But to do it while he's not even in the same state is just brazen, even for this guy.
Featured image via screen capture