There has undeniably been a lot of news surrounding the bombshell indictment and subsequent arraignment against Donald Trump, as one would expect, considering the work done by Manhattan Manhattan District Attorney Alvin Bragg, his investigators and prosecutors, and the grand jury made history in the United States, serving as the very first time in American history that a current or former US president has ever been charged with a crime. Disgraced former President Donald Trump was ultimately arraigned on a staggering 34 felony charges this week, all related to falsifying business documents and campaign finance violations related to the multiple hush money schemes, including the infamous 6-figure payment made to adult film star and former Trump affair partner, Stormy Daniels.
It certainly makes sense that the news surrounding these unprecedented legal proceedings has absolutely dominated the media cycle, and will likely continue to take precedence over the coming weeks.
But among all of the important reporting regarding the legal aspects of the monumental case, one particularly entertaining piece of information has come to light, that didn't quite get the media attention we think it deserves, amid all the hustle and bustle of Donald Trump's technical arrest.
I'm talking about the big guy's "real weight."
Stay up-to-date with the latest news!

Subscribe and start recieving our daily emails.
Politics Video Channel noted that, as a result of Donald Trump's formal arraignment, the scandal-ridden ex-president had to provide and/or confirm certain personal information about himself — This included things like his occupation, his height, and even his weight.
According to their report, "Former President Donald Trump told police he weighs 270 pounds and stands at 6 feet, 2 inches when he was arraigned at a lower Manhattan courthouse this week."
Even with a height of over 6 feet, a weight of 270 pounds would put the big guy firmly in the obese category: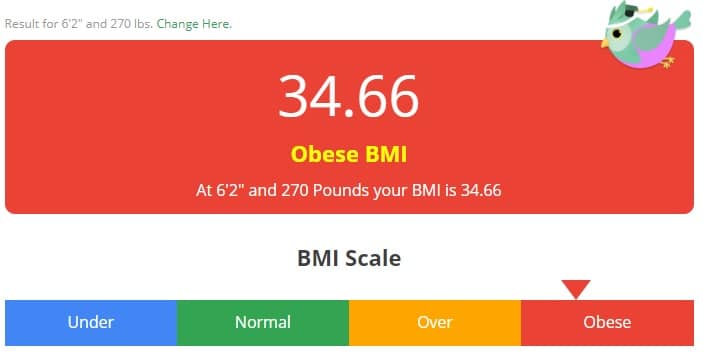 Frankly, it's not exactly a surprising development. The man's only form of "exercise" is putting around his properties on a golf cart, only getting off his ass long enough to swing a club, and there's no denying that the man is notorious for his gross fast food eating habits.
Featured image via screen capture 
Can't get enough Political Tribune? Follow us on Twitter!
Looking for more video content? Subscribe to our channel on YouTube!