It's no secret or surprise that scandal-ridden ex-President Donald Trump has and continues to maintain that he was the fair and rightful winner of the 2020 presidential election. It's the same assertion that he has made since the very moment he finally realized that Joe Biden beat him and it's the same assertion that rapidly morphed into the now-infamous Big Lie. The same Big Lie that led to multiple humiliatingly lost lawsuits and investigations on Trump's part. The same Big Lie that ignited the deadly January 6th Capitol attack by a mob of Trump's rabid supporters who clung so tightly to the then-outgoing president's claims that they literally attempted to overthrow the US government, claiming human lives in their wake. It's the same Big Lie that has led to multiple investigations mounting and raging against the pathetic, washed-up, has-been former guy — including the January 6th House Select Committee's investigation and the Biden US Department of Justice probe that's gaining massive, rapid steam.
Still to this day, Donald Trump continues to shout from every rooftop he can get to, on any ear that he thinks will listen, claiming that he is the rightful president of the United State, the fair and rightful winner of the 2020 presidential election, and his second term was stolen from him through massive, nationwide, and disproven voter fraud.
But at the end of the day, Trump knows he lost… Just as much as we do.
Every once in a great while, he lets it slip. Like this.
Stay up-to-date with the latest news!

Subscribe and start recieving our daily emails.
Today, Queen Elizabeth II's funeral took place, after her recent passing at 96 years old. Trump, of course, was not invited or allowed to attend the global event. Apparently, in his anger and hurt over the matter, the washed-up former president became so obsessed with his lack of attendance at such a monumental event that he forgot, for at least a moment, that he's still "supposed" to be the president.
Taking to Truth Social this afternoon, Trump attempted to attack President Biden and, more specifically, the spot where Biden was seated during the Queen's funeral. But no one was able to pay much attention to his petty rant, as they were too focused on what lies between the lines.
Trump wrote, captioning an image of the president from Her Majesty's funeral:
This is what's happened to America in just two short years. No respect! However, a good time for our President to get to know the leaders of certain Third World countries. If I were president, they wouldn't have sat me back there—and our Country would be much different than it is right now!"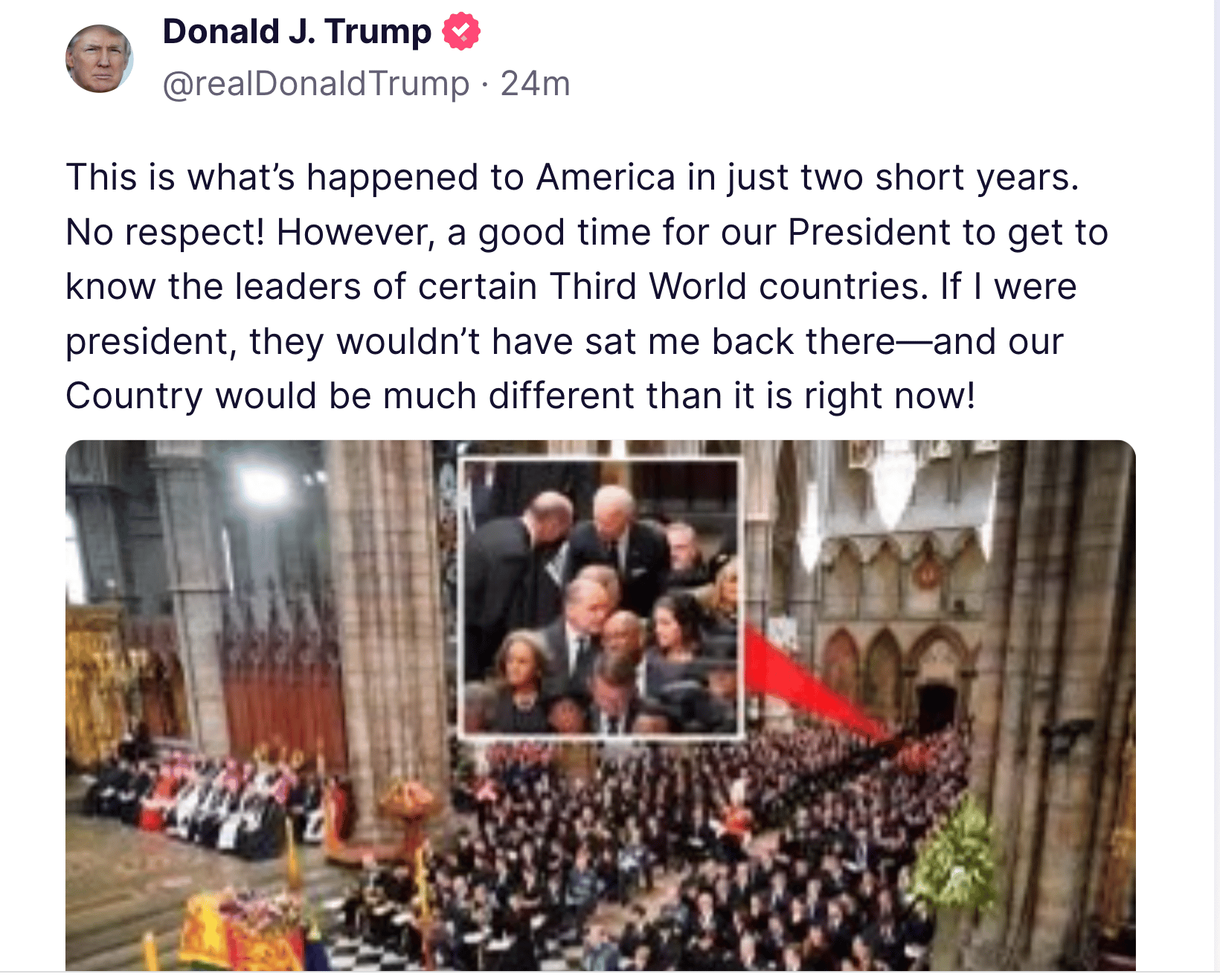 He knows…
Featured image via Flickr/Gage Skidmore, under Creative Commons license 2.0
Can't get enough Political Tribune? Follow us on Twitter!
Looking for more video content? Subscribe to our channel on YouTube!