Donald Trump wants to talk and act as though he's not worried about the recent bombshell FBI search warrant raid that was executed against his Mar-a-Lago compound on Monday of last week. But to be frank, his own social media posts are betraying him.
The ex-president's recent "Truths" on his Truth Social platform have read like a "Dear Diary" of fear, panic, and unhinged anger, ever since he himself confirmed the news of the explosive FBI search at his Palm Beach country club he calls home.
It seems his panic has reached such an unhinged fever pitch, in fact, that it appears to be keeping him up at night.
Late last night, the scandal-ridden former guy launched into one of his worst tirades yet, which carried over well into this morning.
Stay up-to-date with the latest news!

Subscribe and start recieving our daily emails.
"The RAID was Politics, the Midterm Elections, and 2024. It's another form of Election CHEATING – That's all the Radical Left Democrats know what to do. They use the FBI & DOJ to try and dirty up their opponents, but the people of our Country are wise to them like never before. Be careful what you wish for!" he wrote on Truth Social last night.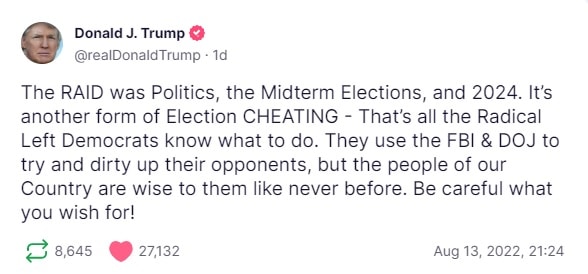 After a series of "retruths" through the night, Trump started back in bright and early this morning, writing, "The FBI has a long and unrelenting history of being corrupt. Just look back to the days of J. Edgar Hoover. In the modern era, nothing has changed except that it has gotten far worse. Look at Comey, McCabe, Strzok and lover Lisa Page. Check out the brilliantly written but damning I.G. Reports. See what they were willing to do in order to get Crooked Hillary Clinton elected (they failed), and got caught! They spied on my campaign, pushed the FAKE Dossier, and illegally used the FISA Court….."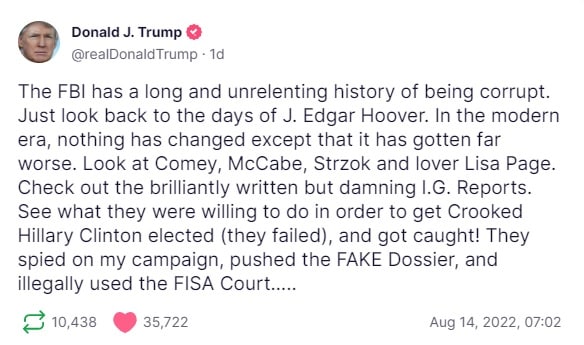 "….The Inspector General said the FBI acted with "gross incompetence and negligence." I was fully vindicated in the Russia, Russia, Russia SCAM, the "No Collusion" Mueller Investigation, Impeachment Hoax #1, Impeachment Hoax #2, and all else. NOW THEY RAID MY HOME, ban my lawyers and, without any witnesses allowed, break the lock that they asked us to install on the storage area that we showed them early on, which held papers that they could have had months ago for the asking, and without….."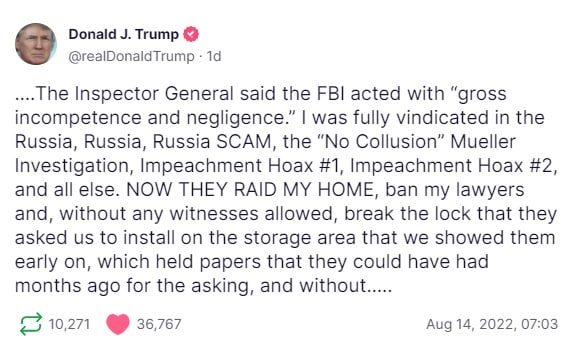 "….the ridiculous political grandstanding of a "break in" to a very storied, important, and high visibility place, just before the Midterm Elections. The whole World was watching as the FBI rummaged through the house, including the former First Lady's closets (and clothing!), alone and unchecked. They even demanded that the security cameras be turned off (we refused), but there was no way of knowing if what they took was legitimate, or was there a "plant?" This was, after all, the FBI!"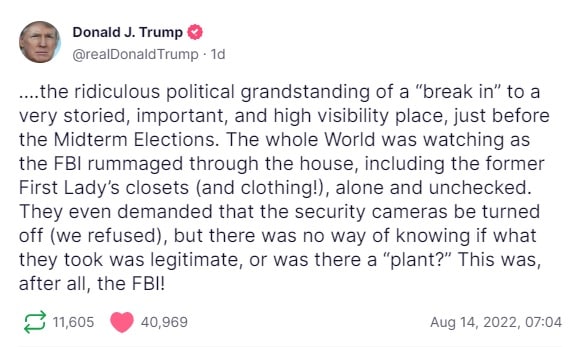 He just kept going and going…
"Oh great! It has just been learned that the FBI, in its now famous raid of Mar-a-Lago, took boxes of privileged "attorney-client" material, and also "executive" privileged material, which they knowingly should not have taken. By copy of this TRUTH, I respectfully request that these documents be immediately returned to the location from which they were taken. Thank you!"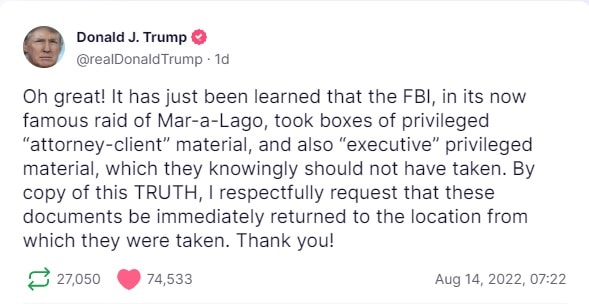 And, of course, he couldn't end things without some version of a sir story.
"Just left a large gathering of people and all they could talk about was the complete and total stranglehold that the Radical Left Democrats have over the DOJ & FBI. It shouldn't be that way. Nobody goes after BLM, ANTIFA, or the rest, despite murder, beatings, and burning down large sections of cities, a very unfair double standard. They definitely won't attack the home of a former Democrat President, nor should they. It is all so out of control, great simmering anger!"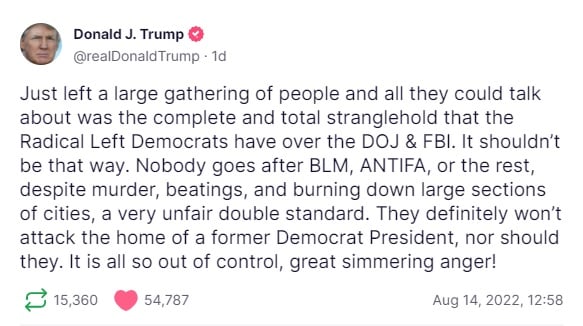 You can quite literally smell the fear at this point. And boy, does it stink…
Featured image via screen capture 
Can't get enough Political Tribune? Follow us on Twitter!
Looking for more video content? Subscribe to our channel on YouTube!