Where will the Trump family go after they have finally been pried from the White House? Do they plan on returning to their old, "normal" lives in New York? Donald clearly doesn't, as he has since moved away from New York City down to where all crooked seniors seem to end up, Florida. Eric and Don Jr. probably don't have a plan, which is why they are desperately trying to convince their father to hold on, keep throwing out lawsuits, and stall for their grand delusion of another four years. Ivanka and Jared, however, do seem prone to attempt to pick back up where they left off in New York. The question is… are they still welcomed there?
Ivanka is reportedly trying to convince her father, Donald, to pack it in with her sights set back on their old home, their old routine, their art collecting, and fancy business outings. But according to Ivanka's best friend Georgina Bloomberg, "Their return to the city could be socially 'difficult,' – at least at first."
The Ivanka/Kushner family is reportedly trying to move back into their $4.1 million pad in Trump's Park Avenue building, which might be simple enough. But then they will have to contend with all the bridges they burned when they got into politics, as many of their elite socialite friends have spoken out against her father's failed administration.
Such as Emmy Rossum who was often seen in pictures with Ivanka and Jared pre-Donald Trump presidency:
Donald Trump thinks "when you're a star" you "can do anything" to women? Well you can't make me vote for you, you misogynistic entitled pig.

— Emmy Rossum (@emmyrossum) October 7, 2016
Or Actress Natalie Portman, who attended Ivanka's wedding in 2009 and even invited Ivanka to her own wedding in 2012 Since then though, she has been a vocal critic of Trump, accusing his administration of "taking us backwards on civil rights."
Another instance of this is New York socialite and former friend Lauren Santo Domingo who's tweets make it clear what she thinks of Ivanka now: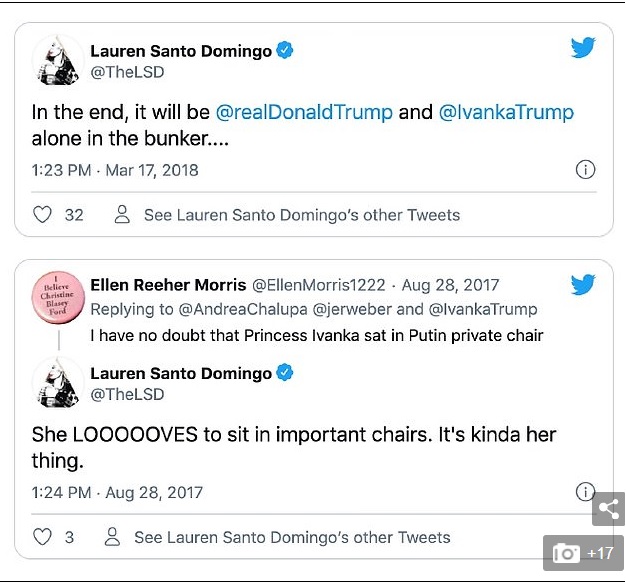 They are so used to not having anyone in Washington stand in their way, so used to the comfort of Donald's administration, it's going to be very different trying to integrate back into rich, social New York elite like they want to.
Feature imaged via Political Tribune Gallery
Can't get enough Political Tribune? Follow us on Twitter!
Looking for more video content? Subscribe to our channel on YouTube!