It seems that with each passing moment at this point — amid the rapidly mounting investigations, scandal, and legal peril that's serving to effectively drown him these days — scandal-ridden ex-President Trump's panic and desperation grows more and more erratic and unhinged, while what little inhibition and self-restraint he may have once goes by the wayside.
The washed-up former president appeared to kick off one of his recent mornings by using his struggling Truth Social platform to promote even more violence in the US, as if this country hasn't suffered from enough of that already.
While, this time at least, Trump didn't personally pen the violent words, he certainly took no issue with using his platform and voice to promote the dangerous message to his loyal supporters.
Recently, the former US president promoted a Truth Social post from one of his devout supporters, promising to resort to physical violence in an effort to ensure that the scandal-ridden, corrupt ex-POTUS is returned to political power in 2024.
Stay up-to-date with the latest news!

Subscribe and start recieving our daily emails.
"It's not going to happen again," the unhinged MAGA supporter publicly vowed with regard to the possibility of Donald Trump being denied a second term in the White House in 2024. "People my age and old (sic) will physically fight for him this time. What we got to lose? I'll donate the rest of my time here on this planet to do it. And I know many many others who feel the same… we Are Locked and LOADED."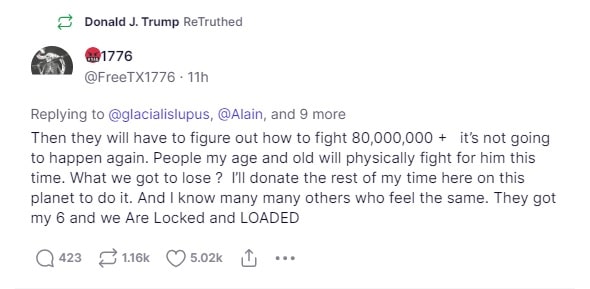 To make matters that much more disturbing, this violent rhetoric comes as hundreds upon hundreds of individuals who participated in the deadly January 6th Capitol insurrection now sit in prison as a result of their heinous violent actions. Clearly, there is little, if anything, to gain from a willingness to "physically fight" for the former president who couldn't give less of a damn about you if he tried to.
But nevertheless, that's done nothing to staunch the brutality and inhumanity that's been constantly promoted by the corrupt now-former president and his unhinged base.
Featured image via U.S. Air National Guard photo by Dale Greer
Can't get enough Political Tribune? Follow us on Twitter!
Looking for more video content? Subscribe to our channel on YouTube!