I don't think there is anyone on earth who would refer to ex-President Donald Trump as a mentally stable human being at this point — unless that person were every bit as mentally unstable as he is. But even knowing full well how unhinged and maniacal that man is, every once in a while, he still pulls something that makes our eyeballs twitch at the sheer audacity, stupidity, and insanity of it all.
And that's precisely what happened today…
Scandal-ridden, washed-up, has-been ex-President Trump took to his floundering Twitter wannabe Truth Social platform today, where he launched one of his nastiest attacks to date, taking aim at the National Archives and Records Administration, demanding that the federal government entity return back to him all of the hundreds of top-secret, highly-classified government documents they were forced to seize from his Mar-a-Lago country club turned post-White House personal residence, after he stole them from the Executive Mansion at the end of his tumultuous presidency, and proceeded to lie to the National Archives about his possession of them.
In true Trump fashion, the former president kicked off his unhinged rant by trying to turn the attention onto anyone but himself, when he flew off the handle about past instances in which the National Archives allegedly lost information hailing from prior administrations. Trump attempted to cite these instances as proof that the highly-classified federal government documents were actually safer at his unsecured golf club — that's now reportedly overrun by "redneck types" — than they were with NARA or at the White House.
Stay up-to-date with the latest news!

Subscribe and start recieving our daily emails.
"NARA lost a whole hard drive full of HIGHLY SENSITIVE information from the Clinton White House," Donald fumed in a Truth Social post. "More than 100,000 Social Security numbers and addresses, Secret Service and White House operating procedures (EXTREMELY SENSITIVE!)."
But Donald's rant got even more unhinged, when he proceeded to close out his statement by demanding that the National Archives and Records Administration returns the highly-classified government documents that he literally stole from the White House and stashed at his country club.
"There is no security at NARA," he demanded. "I want my documents back!"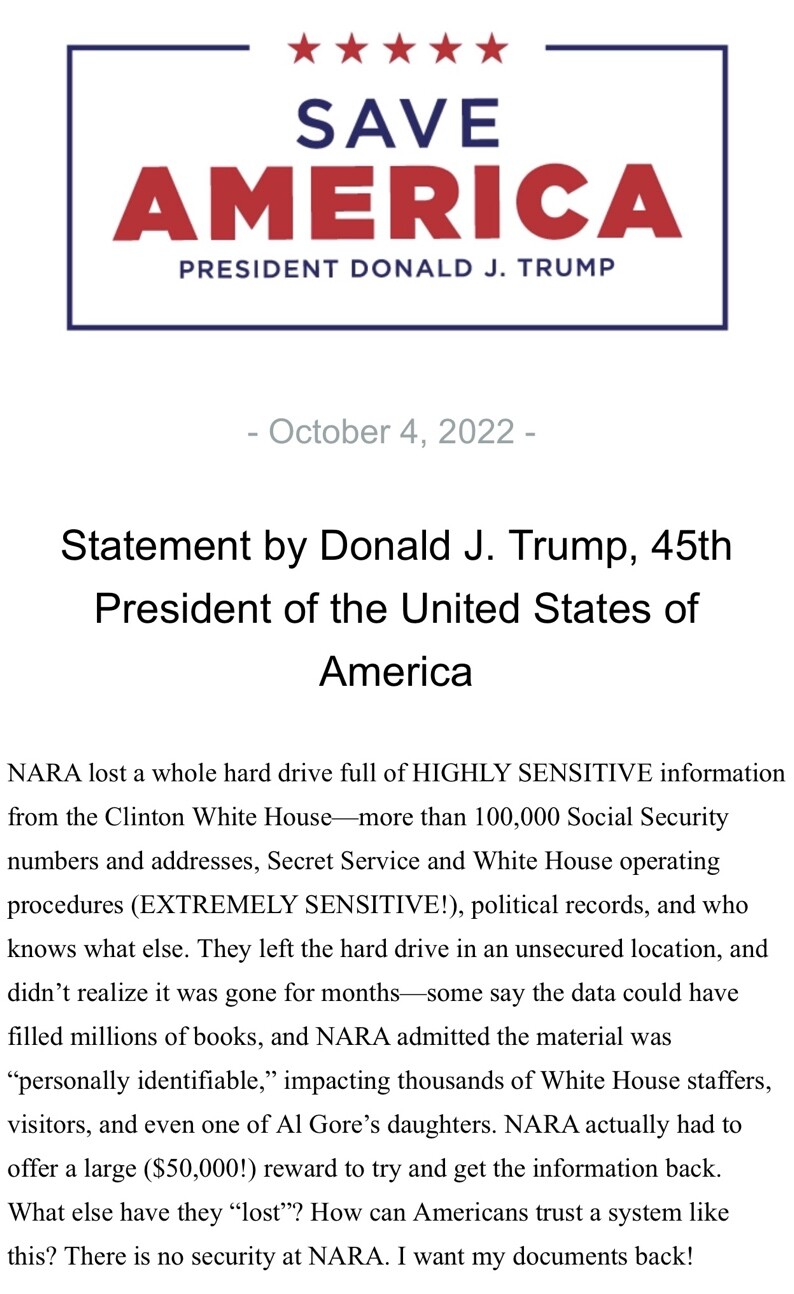 Trump stands accused of, under investigation for, and faces potential criminal charges in relation to violations of numerous laws and regulations, including the Presidential Records Act and the Espionage Act, according to the search warrant document that was released in the aftermath of the FBI raid at his Palm Beach resort.
Featured image via Political Tribune Gallery 
Can't get enough Political Tribune? Follow us on Twitter!
Looking for more video content? Subscribe to our channel on YouTube!