The bombshell news broke yesterday that New York Attorney General Letitia James is coming full force for not only the scandal-ridden ex-president, Donald Trump, but for his equally corrupt children, as well.
The explosive development came in a long-awaited announcement from James yesterday morning, when she officially confirmed that she has filed an all-encompassing civil lawsuit against not only Donald J. Trump and his unscrupulous family business, but against the former president's eldest three children as well.
As part of the explosive lawsuit, James is now seeking to effectively and permanently ban the Trump family from conducting any of their business in the state of New York, and with that, comes approximately $250 million in various penalties — a price tag that Trump undoubtedly won't be able to afford, as his finances already swirl the toilet due to legal fees connecting back to the massive Justice Department investigation into his possible violations of multiple laws and regulations, including the Espionage Act, that recently resulted in the FBI search and seizure warrant raid at his Mar-a-Lago compound.
In addition to barring Trump's business dealings in the state, and the massive financial penalties, James is also seeking to appoint an independent monitor to "oversee compliance, financial reporting, valuations, and disclosures to lenders, insurers, and tax authorities at the Trump Organization" for no less than 5 years.
As you can imagine, Donald and his family are extremely upset over this news.
Stay up-to-date with the latest news!

Subscribe and start recieving our daily emails.
Trump himself took to his Truth Social platform so quickly after yesterday's announcement that we're beginning to wonder if he has mad lib-style templates of these social media rants, just sitting around waiting for someone to piss him off so he can fill in the blanks with their name and various insults and expletives.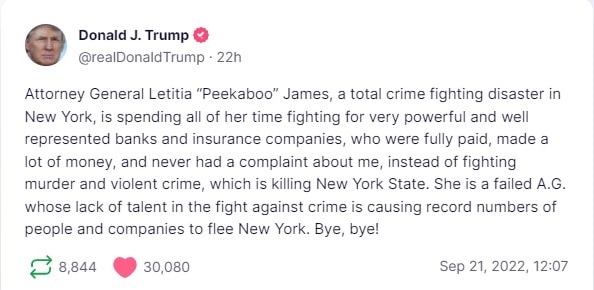 We're still not at all clear on what "Peekaboo" is supposed to mean here.
But nevertheless, the former president isn't the only one with the Trump last name who's found themselves positively fuming over AG James' big announcement.
While middle son Eric's wife, Lara, isn't a Trump by birth, there is certainly no denying that Donald's daughter-in-law has adopted the family's traits.
Following the brutal announcement from Letitia James, Lara Trump made an appearance on Fox News this morning, where she proceeded to attempt to blame the New York Attorney General, and her ongoing investigations into the corrupt crime family, for the deaths of sick children.
James' suit against Donald and his children essentially alleges that the family purposely misrepresented the value of their assets in an effort to further enrich themselves financially.
During her Fox & Friends appearance this morning, Lara railed not only against this particular investigation, but also the investigation into accusations that her husband, Trump's middle son Eric, funneled money into his business from donations that were given to a charity he started to help sick and dying children with cancer.
According to Lara, this investigation from James led to an inconceivable amount of deaths of innocent, sick kids.
"My husband started a charity to raise money for kids at St. Jude's Children's Hospital," Lara said on this morning's Fox segment. "When he was 22 years old he raised $30 million for the kids of St. Jude, and Leticia James has such vitriol and hatred for anyone with the last name 'Trump' that she decided to investigate my husband's charity despite the fact that it had one of the lowest expense ratios of any private charity in America. And unfortunately, guess who was hurt by that? It wasn't my husband, it's the kids of St. Jude. Who knows how many kids have died unnecessarily thanks to her investigation and her vitriol and hatred for anyone with the last name 'Trump.'"
She's reaching so far Donald Trump should take notes at this point.
See the clip here:
"Guess who was hurt by that? It wasn't my husband, it's the kids of St. Jude. Who knows how many kids have died unnecessarily thanks to her investigation …"

— Lara Trump seemingly accuses NY AG Letitia James of killing sick kids because of her Trump investigations pic.twitter.com/S877Iw6EqJ

— The Recount (@therecount) September 22, 2022
Featured image via Flickr/Gage Skidmore, under Creative Commons license 2.0
Can't get enough Political Tribune? Follow us on Twitter!
Looking for more video content? Subscribe to our channel on YouTube!