It's no big secret at this point that Donald Trump's eldest son and namesake, Donald Trump Jr., is a really big fan of shooting and killing any living, breathing thing he can get his hands on that won't send him to prison for literal murder.
He's a "hunter," if you will.
Over the years, we've reported on just about all of the little hunting excursions Don Jr. has so proudly and publicly bragged about — including the time the eldest Trump spawn managed to secure himself a permit to become one of just 3 people in the world, at the time, who wanted to kill an Alaskan grizzly bear, for reasons which are quite frankly beyond us.
But it seems the love for killing that's running so deep through the Trump circle has reached a point of such depravity and overall disgustingness that both sides of the political fence couldn't keep quiet about it.
Democratic and Republican feathers alike were thoroughly ruffled after Don Jr.'s longtime girlfriend Kimberly Guilfoyle took to her social media accounts with a birthday message for her brother-in-law Eric Trump, who recently turned 39.
Stay up-to-date with the latest news!

Subscribe and start recieving our daily emails.
"Wishing @erictrump the happiest of birthdays! You are a wonderful father to Luke and Carolina, husband to @laraleatrump, brother and friend to all who know and love you! Here's to the absolute best 2023!" Guilfoyle posted to her socials.
However, it wasn't the birthday message itself that sent people hurling in disgust, but rather the photos that Kimberly chose to accompany her tribute to her brother-in-law.
In her Instagram post, the very first photo alongside her birthday message to Eric, was a picture of herself, her boyfriend Don Jr., and middle Trump son Eric posing beside a lifeless deer that, assumably, one of the trio had just shot dead. They were so proud of the kill that Junior was lifting and propping up the animal's head to get a better view of its antlers for the snapshot.
View this post on Instagram
The photo was so gross, insensitive, and frankly disturbing that people from both sides of the political aisle made it well known to Guilfoyle and the Trump boys that there were unsettled, and even infuriated by the problematic picture: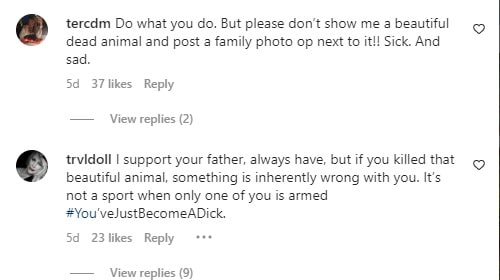 Kimberly posted the same birthday message on her Twitter account, with a link to her Instagram post, and didn't find anymore more love for her disturbing photo there:
Your pictures are sickening Kimberly.

— 💙Blue𝐂𝐚𝐥𝐢Girl💙 (@Dems4Biden) January 10, 2023
How sad, smiling after killing a beautiful animal.

— Theresa O'Reilly (@Jones193857) January 9, 2023
Like the birthday wishes…..not so much the dead Bambi picture…….

— Mike Kujawski (@MikeKujawski4) January 6, 2023
How does killing a poor defenseless animal makes you smile is beyond me!

— Tony G (@el_loboloco7) January 7, 2023
Killing innocent, living, breathing creatures just isn't the flex these people seem to think it is.
Featured image via Flickr/Gage Skidmore, under Creative Commons license 2.0
Can't get enough Political Tribune? Follow us on Twitter!
Looking for more video content? Subscribe to our channel on YouTube!