Recently, we reported on the bombshell news that former longtime Trump Organization chief financial officer Allen Weisselberg finally delivered his under-oath testimony in a Manhattan court, where he officially turned on the entire Trump family.
In his bombshell under-oath testimony, Allen Weisselberg — who has enjoyed a decades-long relationship with the Trump family on both a professional and personal level — officially implicated not only scandal-ridden former President Donald J. Trump but his two eldest sons, Donald Trump Jr. and Eric Trump as well, in a massive, long-running tax evasion and fraud scheme.
According to reporting from the Washington Post, even Weisselberg himself fully recognized what he's done, as he reportedly grew teary-eyed in the courtroom, as he told the court of the ways Donald J. Trump illegally dodged his tax obligations before taking office as the president of the United States.
The WaPo report reads:
Weisselberg, testifying as a witness for the prosecution as part of a plea agreement, said on cross-examination that he was embarrassed by his conduct 'more than you can imagine' and that his actions betrayed the Trump family, for whom he had worked for a half-century. He is 'practically' family to the Trumps, he said. Weisselberg also testified that he was acting only for his own benefit — a position that could work against a conviction in the criminal tax fraud and conspiracy case against Donald Trump's namesake company."
Stay up-to-date with the latest news!

Subscribe and start recieving our daily emails.
As you can imagine, Donald Trump isn't handling the development well.
At all.
Following the explosive news of Weisselberg's testimony, the scandal-ridden ex-president took to his struggling Truth Social platform, where he made himself comfortable and proceeded to blow up into a fit of unhinged rage, full of baseless claims with, as per usual, no evidence to back himself up.
"The D.A. case against two small Trump entities has fallen apart. Even the Media is saying so," Trump fumed in a Truth, offering absolutely no proof of his own claims. "There has never been a 'Fringe Benefits' case such as this brought before. Did a long time executive pay tax on the use of a company car, or a company apartment, or payments (not even taken by us as a tax deduction!) for the education of his grandchildren? For this, he gets handcuffs and jail? The highly paid accounting firm should have routinely picked these things up – we relied on them. VERY UNFAIR!"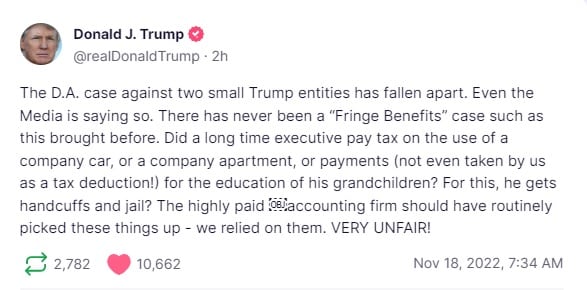 Trump continued his rage-fueled rant in another Truth Social post, fuming, "Many people, perhaps most, don't pay tax on the use of a company car or company apartment. Whether they know or not, that's just the way it is. It's called "standards and practices," referring, I presume, to the standards and practices of large numbers of people within the Country. Out of fairness, it has a legal meaning. It should be a point in the Manhattan D.A. case. Did the former D.A. Pay tax on the use of his car? In the meantime, Violent Crime in New York has reached an ALL TIME HIGH!"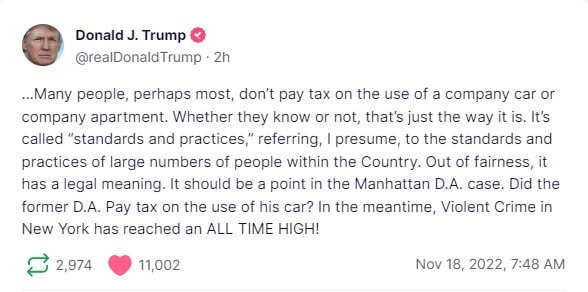 The man's fear is palpable at this point.
Featured image via Political Tribune Gallery 
Can't get enough Political Tribune? Follow us on Twitter!
Looking for more video content? Subscribe to our channel on YouTube!