Yesterday evening, news broke from multiple tabloids that former strategist and White House adviser Kellyanne Conway has officially split from her husband George Conway, following years of ongoing drama within the family and Kellyanne's recent, rather telling book.
Almost as soon as those reports broke — from the likes of The Daily Mail and Page Six — scandal-ridden former President Donald Trump viciously pounced on the news of a broken family with a sickening level of joy and pride.
Staunch MAGA ally Kellyanne and her soon-to-be ex-husband George Conway were married for 22 years and had four children together — Claudia, Vanessa, Charlotte, and George.
Since Kellyanne first pledged her loyalty to Donald Trump's 2016 presidential campaign and beyond, the couple quickly grew notoriety over their polar opposite political views. While they both identified as Conservatives, Kellyanne was obviously devout to the washed-up New York real estate "mogul" and reality TV "star" turned controversial presidential candidate, while George was a co-founder of The Lincoln Project, a popular coalition of former Republicans devoured to defeating Donald Trump, removing him from the White House, and ensuring he never returned to those hallowed halls again.
Stay up-to-date with the latest news!

Subscribe and start recieving our daily emails.
The pair's political difference served as a huge, ongoing point of contention in their marriage and overall home life, as George actively lobbied against Donald Trump while Kellyanne simultaneously served under him. George was often found openly mocking and criticizing Trump on social media while his wife was desperately and vehemently trying to defend her boss against her own husband.
The drama only grew within the Conway family as their eldest daughter Claudia began to "find herself," so to speak, and very publicly turn her back on her mother's political values and her presidential boss — leading to several uncomfortable and sometimes downright concerning social media posts from the eldest Conway daughter, and confrontations between Claudia and her mother that led to police intervention.
Claudia remains a staunch critic of Conservative policies backed by her own mother, recently going viral on social media for her involvement in protests regarding the overturning of Roe V. Wade in the Supreme Court.
In 2020, Kellyanne released a memoir titled, Here's The Deal, in which she wrote that her husband's incessant criticism of her boss was a betrayal against her and their marriage, calling George's actions "cheating by tweeting." Trump himself regularly utilized his various social media platforms to lob insults back and forth with Kellyanne's husband while she was actively working in his administration.
According to reports on the matter, both Kellyanne and George have acquired legal counsel and are currently working to divide their assets and ultimately dissolve their marriage.
Nearly simultaneously with the news of the impending divorce hitting the media cycle, Trump scrambled to his struggling Truth Social platform to give his own two cents on the news, and congratulate his former staffer for her split from her anti-Trump husband.
"Congratulations to Kellyanne Conway on her DIVORCE from her wacko husband, Mr. Kellyanne Conway," Trump wrote in his Truth Social post. "Free at last, she has finally gotten rid of the disgusting albatross around her neck."
"She is a great person, and will now be free to lead the kind of life that she deserves," he continued to ramble, "and it will be a great life without the extremely unattractive loser by her side!"
Now, the Conservative attorney and anti-Trump pundit has fired back at his soon-to-be ex-wife's ex-boss — HARD. 
Conway took to his own Truth Social account, where he re-Truthed the ex-president's congratulatory post about his impending divorce and wrote, "Looking forward to seeing you in New York at E. Jean's trial next month! Hugs and kisses," complete with a couple of heart emojis.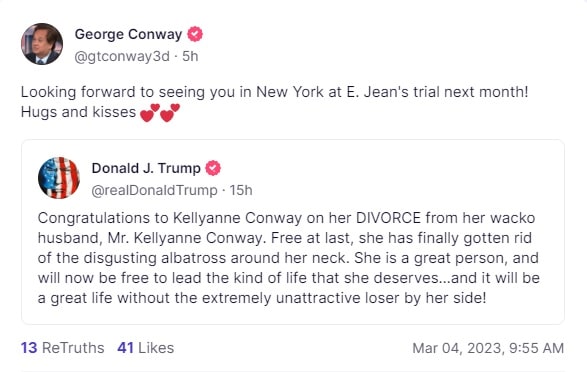 Conway was making a clear reference to Donald Trump's impending New York rape trial in connection to the lawsuit lodged against him by accuser E. Jean Carroll.
Carroll, a world-renowned advice columnist, has alleged that Donald Trump raped her in the dressing room of a Manhattan department store back in the late 1990s. Trump has vehemently denied these allegations, claiming that Carroll is "not his type" — despite recently mistaking a photo of his alleged victim for his ex-wife Marla Maples during a deposition in the care. Late last year, Carroll ignited a new lawsuit against the disgraced former president under New York's recently passed Adult Survivors Act, which temporarily lifts the statute of limitations for a period of a year on civil cases pertaining to allegations of sexual offenses.
Carroll also sued Donald Trump for defamation in 2019 in connection to his remarks about her not being his "type."
Featured image via screen capture 
Can't get enough Political Tribune? Follow us on Twitter!
Looking for more video content? Subscribe to our channel on YouTube!