Donald Trump has spent this entire election season stooping as low as he possibly can to hit his Democratic opponent and knock him out of any conceivable chance at winning in just 10 short days, complete with multiple attempts at trolling the former Vice President — overall unsuccessfully, might I add. Now it seems that his competition has taken up the "If you can't beat them, join them" mantra, and it's already crystal clear the Joe is a hell of a lot better at this trolling game than Trump ever thought about being.
If you follow Biden on social media at all, you've already seen that the former VP's trolling game is on point — I mean, the guy was all over the fly-gate debate ordeal in a hot New York second. But Joe's most recent jab at his Republican opponent is probably my most favorite of all.
In a tweet recently posted to his account, Biden revealed that he has finally found Donald Trump's plan to beat the coronavirus pandemic.
The former Vice President and Democratic nominee's tweet read, "After eight months of this pandemic, we finally found President Trump's plan to beat COVID-19," complete with a link to trumpcovidplan.com.
After eight months of this pandemic, we finally found President Trump's plan to beat COVID-19. https://t.co/KO4g328Uvr

— Joe Biden (@JoeBiden) October 23, 2020
When you click on the link, it takes you directly to the plan Donald Trump has laid out to pull this nation out of this massive crisis. See for yourself: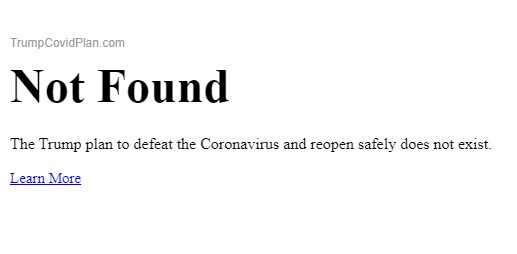 Spot on, folks. Wouldn't you say?
Social media users were mind blown:
I was not prepared for this level of savagery at 3:30 on a friday afternoon

— Petty Mahomes (@WhosManIsThis24) October 23, 2020
Savage. pic.twitter.com/DUFjldrzcC

— Andrew Goss 👊USAF👊 (@Goss30Goss) October 23, 2020
— Jesse Lifson (@DoYouEvenLif) October 24, 2020
The best shade is #JoeBidenForPresident shade. pic.twitter.com/3VjM1uYYPQ

— Leah Krevit 🌵💙 (@leahkrevit) October 23, 2020
Did… Biden just make me say "bruh" out loud? pic.twitter.com/qExQu0kETE

— OOF (@DylanH2099) October 23, 2020
That, Sir, was Class A trolling.

— Kamala Harris Gives me Hope MVP 💛🐝 (@zeebap2) October 24, 2020
Oop! The shade of it all!!! pic.twitter.com/HU19j2Y3mE

— RP 🎃 💛🐝 (@RP4Democrats) October 23, 2020
Donald Trump wants to play hardball? Joe Biden just came in swinging.
Featured image via Flickr/Gage Skidmore, under Creative Commons license 2.0
Can't get enough Political Tribune? Follow us on Twitter!
Looking for more video content? Subscribe to our channel on YouTube!