***UPDATE***
Since publishing this article NBC News has updated their report after Vice President Pence and President Trump spoke in the Oval Office today. The report still asserts that this is the first time the two have spoken since Wednesday morning. MSNBC reports that the pair spoke about both of them staying in office.
***
***
***
As I'm sure you've noticed, Donald Trump has been at odds with his right-hand man, Vice President Mike Pence, here lately. It was clear that Trump was depending on Pence to pull through for him during Congress' confirmation of the Electoral College votes, expecting the Senate President to just simply refuse the confirmation, even going so far as to say he wouldn't want to be friends with him anymore if he didn't come through.
Once the Electoral College votes were confirmed in favor of Joe Biden, after the Capitol building was cleared from the act of insurrection perpetrated by Trump's own supporters, Donald was quick to air out his grievances with his VP all over social media.
Stay up-to-date with the latest news!

Subscribe and start recieving our daily emails.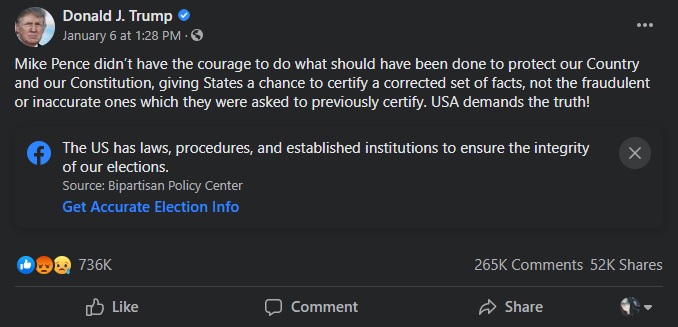 Following the Capitol riot, it seems the relationship between Pence and Trump has only gotten worse.
Recently we reported that Pence aides and allies were extremely upset with the outgoing President, as they felt he ignited the violence that took place at the Capitol building, setting up Pence to take the fall and even endangering his life. And now, a new report from NBC News claims that Pence himself is none too happy with his soon-to-be-ex boss either.
Sources close to the VP say that Mike was "very upset" that Trump didn't do more to dissuade the mobs at the Capitol, some of which were chanting and calling for Pence's execution. "Lives were at stake," the source said.
The Trump White House was noticeably quiet on the heels of the Capitol attack, only speaking out on Saturday with a generic condemnation of "all calls to violence" against anyone within the Trump administration, with no specific mention of the threat faced by Pence and his security detail.
Multiple sources now report that Pence and Trump have not spoken since Wednesday morning after Trump called on his VP to somehow stop the certification of the Electoral College vote, something Pence was clear that he did not have the authority to do.
According to the report, Pence has told those close to both him and Trump that "he was a good partner for years," and yet Donald abandoned him in the end over "one little thing."
It certainly does seem as though Pence's loyalty to Trump is cracking. But frankly, I will not be impressed until the 25th Amendment has been invoked.
You can read the full report here.
Featured image via Political Tribune gallery
Can't get enough Political Tribune? Follow us on Twitter!
Looking for more video content? Subscribe to our channel on YouTube!