Listen, life has gone to absolute shit for Donald Trump this week, and suffice it to say, the dude's NOT handling it well.
Last last night, just before midnight, Trump was apparently wide awake and musing on this week's happenings, when he decided to pump out a nonsense statement, expressing his demands for the "immediate release" of the Mar-a-Lago search warrant raid that took place at his Palm Beach compound at the beginning of the week — after Attorney General Merrick Garland called the former guy's bluff during his impromptu press conference yesterday afternoon. The very same search warrant documents, of course, that Donald Trump possesses a full and complete personal copy of and could release himself any damn time he pleases.
But don't think for a second that Trump's middle-of-the-night political grandstanding is actually indicative of a change in heart in any way for the former guy. Trust, he's still just as unhinged and hysterical as he's ever been, and he's making that well known all over his floundering Truth Social platform.
News broke from the Washington Post yesterday that inside sources have allegedly revealed that the hurried driving force behind the FBI's Mar-a-Lago search was due to their educated belief that Donald Trump was in possession of classified, top-secret documentation related to nuclear weapons.
Stay up-to-date with the latest news!

Subscribe and start recieving our daily emails.
Wouldn't you know, Trump is big mad about this.
Taking to his social media platform, the ex-president called the nuke documents report from the Post a "hoax," before fuming, "Nuclear weapons issue is a Hoax, just like Russia, Russia, Russia was a Hoax, two Impeachments were a Hoax, the Mueller investigation was a Hoax, and much more. Same sleazy people involved."
"Why wouldn't the FBI allow the inspection of areas at Mar-a-Lago with our lawyers, or others, present," he went on to scream. "Made them wait outside in the heat, wouldn't let them get even close – said 'ABSOLUTELY NOT.' Planting information anyone? Reminds me of a Christofer Steele Dossier!"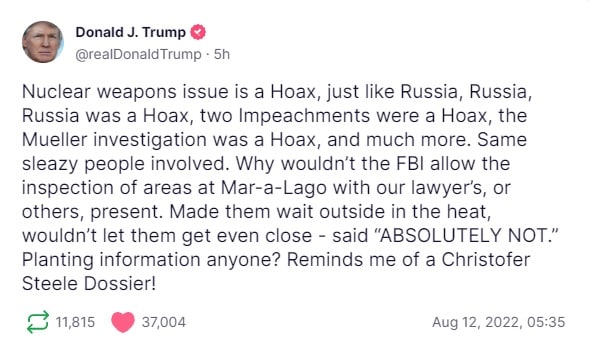 I don't believe Donald Trump even remotely grasps the notion that trying to make claims about "planted information" only makes it appear almost certain that the FBI actually found any problematic information at his Palm Beach compound, to begin with — which, in the end, is only serving to make Trump look guiltier and guiltier by the second.
I'm guessing no one's telling the guy to shut the hell up at this point? Or rather, in true Trump fashion, he's just not listening.
Featured image via Political Tribune Gallery 
Can't get enough Political Tribune? Follow us on Twitter!
Looking for more video content? Subscribe to our channel on YouTube!