It seems KY lawmaker and Senate Minority Leader Mitch McConnell has done something Donald Trump doesn't like again, and the washed-up, has-been, scandal-ridden former guy, unsurprisingly, isn't handling it well.
Late yesterday evening, Trump took to his floundering fake Twitter, Truth Social, where he set his sights on the Kentucky Republican following President Joe Biden's signing of a bill that would effectively stop the United States government from shutting down at midnight. The bill in question passed the Senate 72 to 25 on Thursday and went on to pass the House 230 to 201 before being sent up the line for the president's signature.
The Washington Post reported on the bill, "The continuing resolution extends current funding levels until Dec. 16, while also approving $12.4 billion in military and diplomatic spending to help Ukraine in its war against Russia. It also contains $18.8 billion for domestic disaster recovery efforts, including Western wildfires, floods in Kentucky, and hurricanes in the Southeast."
The bill came complete with the support of Senate Minority Leader McConnell, and apparently, that sent the former president into a tailspin of epic proportions — so much so that Trump stooped to the level of using racist epithets against McConnell's wife, former Trump Administration official Elaine Chao.
Stay up-to-date with the latest news!

Subscribe and start recieving our daily emails.
"Is McConnell approving all of these trillions of dollars worth of Democrat-sponsored bills, without even the slightest bit of negotiation, because he hates Donald J. Trump, and he knows I am strongly opposed to them, or is he doing it because he believes in the fake and highly destructive green new deal, and is willing to take the country down with him?" Trump lashed out, adding, "In any event, either reason is unacceptable."
"He has a DEATH WISH," the former president fumed before laying on the racist garbage, writing, "Must immediately seek help and advise from his China loving wife, Coco Chow!"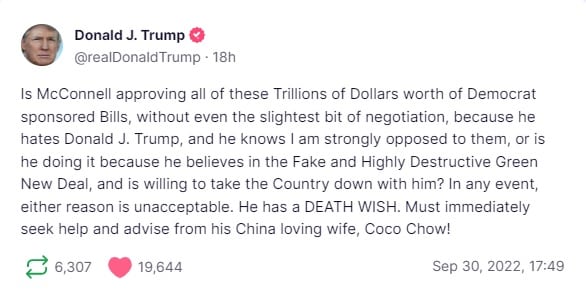 McConnell's wife, Elaine Chao, an Asian-American businesswoman, served as the Secretary of Transportation in Donald Trump's cabinet, from the first month of his term until her resignation on January 7th, 2021, the day after the infamous, deadly Capitol insurrection, when she resigned in protest citing the "traumatic and entirely avoidable" attack.
Featured image via Political Tribune Gallery 
Can't get enough Political Tribune? Follow us on Twitter!
Looking for more video content? Subscribe to our channel on YouTube!