There's really been no denying over the past several years that Donald Trump fully believes he's the best thing to hit the face of this Earth since sliced bread. The man's overinflated ego and general obsession with himself are frankly unmatched. So much so that he's not just vying with sliced bread these days. Apparently, he believes he's way up there on par with Jesus H. Christ himself.
Suffice it to say, Donnie's been having a really hard time here lately — what with the neverending probes, investigations, scandals, and lawsuits that just keep mounting against him from every conceivable direction, with no end in sight, that are beginning to threaten not only his chances and ability at running for a second term in the White House but are beginning to threaten his future freedom as he faces down real, serious indictments on multiple alleged crimes. So, with that being said, I guess he's looking for a way to make himself feel better and more confident, and remind himself that he's got an unhinged cult of devout followers at his fingertips.
It seems he found the perfect opportunity to do just that this week when one of his loyal, staunch followers took to Truth Social with a post that openly compared Donald Trump to Jesus Christ, claiming that, while Jesus is the "greatest," Donald Trump is the "second greatest."
It looks like this was exactly what Donnie's ego needed, as he apparently loved it so much, he decided to "re-Truth" the post, that featured an image of white Jesus and the caption, "Jesus is the Greatest. President @realDonaldTrump is the second greatest."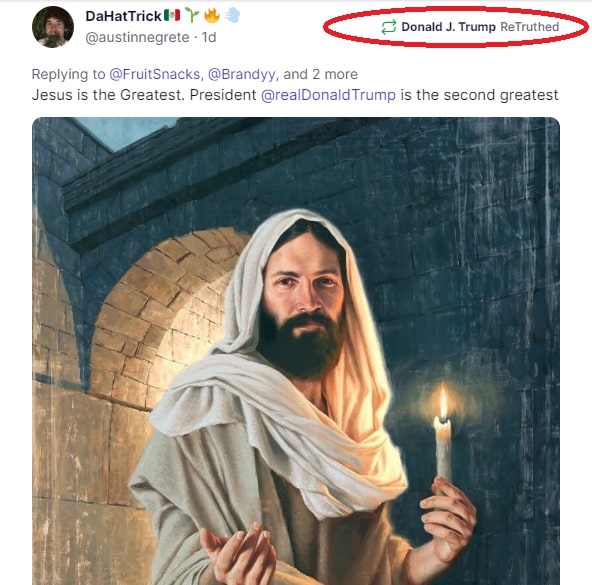 Stay up-to-date with the latest news!

Subscribe and start recieving our daily emails.
Now, while Trump gets all the adoration and praise over on his floundering Truth Social platform, he's not so beloved when it comes to his old haunt, Twitter. Believe me when I say, when the news of this post made it's way over to the Twitter-sphere, the mockery with instant and it was RUTHLESS:
I like when 'great Christian's' know how to hold a Bible correctly and don't use churches for photo ops at the expense of other humans pic.twitter.com/87tgokb2yh

— Katrina (@kball_330) September 23, 2022
Jesus could turn water into wine…but could he declassify documents just by thinking about it. 🤔

— Eli The Fitness Guy (@Eli_Fit88) September 23, 2022
I guess Trump is basing this statement on his mystical powers? pic.twitter.com/Hf8jE78Twh

— Allen Michael (@LiberalForce) September 23, 2022
Captain Crazypants has gone off the deep end! He's beginning to sound like Jim Jones or David Koresh basically comparing/identifying themselves to/as Jesus. Look at the final outcome of their cult followers. pic.twitter.com/q0wuoAHkwj

— Tamela Absheer-Brown ☮️🇺🇦 (@TamelaAbsheer) September 23, 2022
The Second ANTI-CHRIST pic.twitter.com/LcTkShkdMM

— Debra A. #RESISTER (@debra_anzelone) September 23, 2022
— Ⓜ️𝙚𝙞𝙙𝙖𝙨★彡rolf.stueckemann (@stuecke74) September 23, 2022
Actually…
Tish wants to turn over Fat Donny's moneychanger table.
…
Does that make HER Jesus?
Because I believe then she outranks him substantially.

— Scotty Davis (@HollysHooman) September 23, 2022
That's not very Christian to me. Sounds like idol worshipping going on which is an ultimate sin according to the Bible.

— D Branch (@hiteamsports) September 23, 2022
The fucking Antichrist

— Chad Michaels (@ChadMichaels1) September 23, 2022
Hell, maybe this is where he got the idea that he could declassify government documents with the power of his thoughts.
Featured image via Political Tribune Gallery
Can't get enough Political Tribune? Follow us on Twitter!
Looking for more video content? Subscribe to our channel on YouTube!