Texas Republican lawmaker Tony Gonzales has gotten himself into quite the pot of boiling water over his behavior in the aftermath of the catastrophic Uvalde, Texas, elementary school mass shooting.
On Tuesday, 18-year-old high school dropout turned gunman, Salvador Ramos, entered Robb Elementary School where he barricaded himself inside a 4th-grade classroom and opened fire, shooting and killing 19 innocent children and 2 beautiful teachers.
In the midst of the heinous tragedy, Gonzales has spent his time effectively making himself look bad, and then worse.
The TX GOP House Rep. initially responded to the shooting by tweeting out a quote of Matthew 19:14 that appears to laud the notion of children going to heaven:
Jesus said 'Let the little children come to me, and do not hinder them, for the kingdom of heaven belongs to such as these." Let us pray together.
Stay up-to-date with the latest news!

Subscribe and start recieving our daily emails.
As if this platitude wasn't bad enough Gonzales, who once promised to "do everything I can to oppose gun grabs from the far Left," got a little worse when he made an appearance on Fox News the day after the tragic shooting to declare, "The root of a lot of these issues is mental health, and this has been the case for a long time .. covid certainly didn't help."
But believe it or not, he's still getting worse with each passing moment.
According to a new report from the Daily Mail, Congressman Gonzales was forced to retract a previously unfounded claim he made, asserting that Uvalde shooter, Salvador Ramos, was once arrested back in 2018 for plotting a school shooting when he turned 18, as Gonzales railed against law enforcement for letting the gunman "slip through the cracks."
At 7.33 this morning, Rep. Gonzales made an appearance on Fox News where he made the unfounded claim that Ramos was arrested in 2018, as an underage teen, for plotting to shoot up a school once he was of age.
"This wasn't hearsay. I got this late last night: the shooter was arrested years ago, four years ago, for having this plan for basically saying, for saying, you know, when I'm a senior in 2022, I am going to shoot up a school," Congressman Gonzales wrongly declared.
"Something fell between the cracks between then and now to allow this to happen. We need to shake out all the facts."
The Daily Mail reports, "DailyMail.com can confirm that an incident in Uvalde where two 'Columbine-infatuated' teenage boys were arrested for threatening to shoot up a school but because they were juveniles, their identities were not confirmed at the time and they remain secret."
Just shortly after Gonzales' Fox appearance, a reporter for the network, Bill Melugin, sent out a tweet confirming that authorities have contradicted the GOP lawmaker's claim:
Texas DPS & Texas Rangers tell me this is incorrect. There were two juveniles arrested on conspiracy charges for a shooting plot several years back, but the Uvalde shooter was not involved in that incident and was not arrested. @FoxNews https://t.co/TX5tvKTUt7

— Bill Melugin (@BillFOXLA) May 27, 2022
Soon thereafter, Gonzales was stuck sending out a tweet, admitting to his unfounded claim made on Fox this morning:
It is now unclear if the shooter was one of the two kids detained.

If this was not the shooter, we need to find out who these kids are, where they are now, and if they were classmates of the shooter.

There is a clear need for mental health resources in our community.

— Rep. Tony Gonzales (@RepTonyGonzales) May 27, 2022
A school spokesperson released a press statement at the time of the 2018 incident: "One of our Morales Junior High students was experiencing a crisis. Upon rendering aid and support, the student revealed a future plan to conduct a school shooting in the year of 2022."
Uvalde Police Chief Daniel Rodriguez also released a press statement at the time of the incident: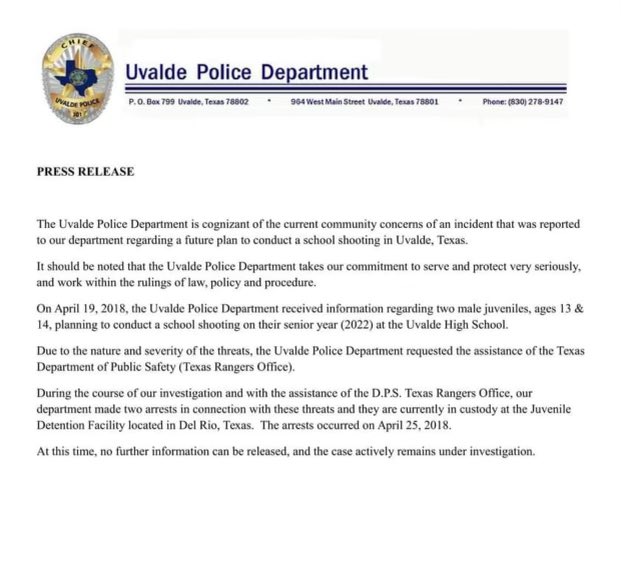 The misinformation surrounding this tragedy is already rampant and these Republicans are so desperate to save their guns, that they're willing to peddle it from the rooftops.
Read the full report from the Daily Mail here. 
Featured image via screen capture 
Can't get enough Political Tribune? Follow us on Twitter!
Looking for more video content? Subscribe to our channel on YouTube!