Donald Trump's eldest and most sycophantic son and namesake, Donald Trump Jr., made it clear to the world that there is quite literally no low he won't sink to — no matter how sickening, disgusting, hateful, or pathetic it may be — only to tuck tail and chicken out of his own garbage behavior once things started to heat up.
Recently, the gut-wrenching news broke that the San Fransisco home House Speaker Nancy Pelosi shares with her husband Paul was broken into by 42-year-old suspect David DePape — who "violently" assaulted Speaker Pelosi's husband, resulting in Paul Pelosi reportedly requiring surgery in the hospital, as DePape searched for the Democratic House Speaker throughout their California home, demanding of Paul, "Where is Nancy?!"
The Speaker of the House was in Washington D.C. for work at the time of the violent invasion. Reports have since revealed that DePape attacked and assaulted Paul Pelosi with a hammer.
And apparently, Donald Trump Jr. thought it was funny as Hell. So funny, in fact, that he found it to be the perfect source for a few of his trashiest memes/social media posts.
Stay up-to-date with the latest news!

Subscribe and start recieving our daily emails.
Taking to both his Twitter and Instagram, the disgraced ex-president's eldest washed-up son posted a meme that featured a pair of white men's briefs with a hammer lying over top. The meme's original caption reads, "Got my Paul Pelosi Halloween costume ready."
On Instagram, Jr. added the caption, "OMG. The internet remains undefeated."
The former first son also posted the meme to Twitter, where he wrote, "The internet remains undefeated… Also if you switch out the hammer for a red feather boa you could be Hunter Biden in an instant."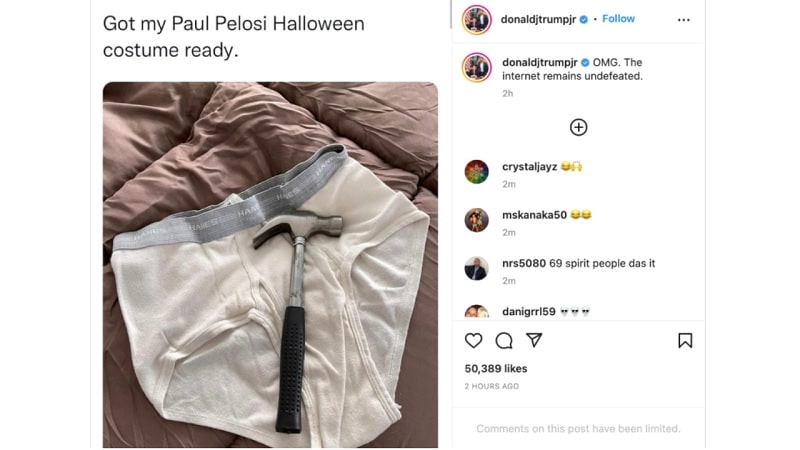 Junior also posted another meme to his Instagram that featured two male Southpark characters in bed with a text bubble saying "Uh, ah, yes Officer. I'm being attacked."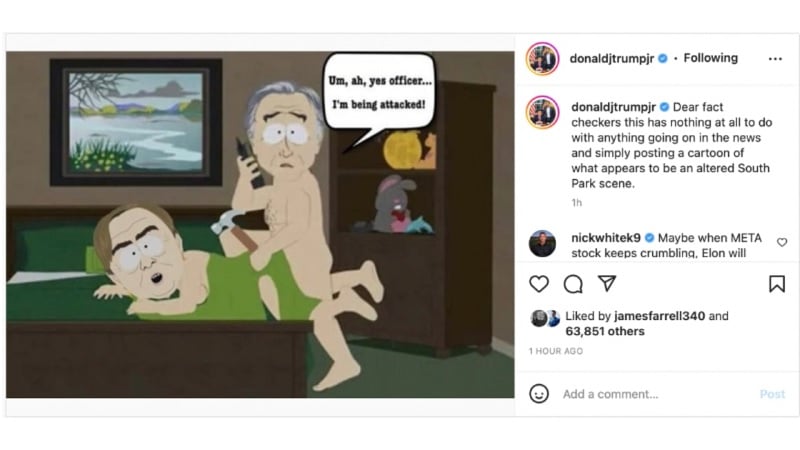 But ultimately, the hilarity didn't last for the pathetic former first son, as it seems Don Jr. couldn't hang once the suspected assailant's motive and confession went public.
Reports have confirmed that David DePape had a long-standing history of subscribing to Right-wing conspiracy theories, and often posted memes and social media rants relating to the January 6th investigations, the 2020 election Big Lie, COVID conspiracies, and other QAnon-fueled talking points.
Now, it seems Junior's social media accounts have been conveniently scrubbed clean of his disgusting memes and jokes after Depape not only coughed up a full confession to the attack and assault but admitted that his actions were absolutely politically motivated.
A new FBI affidavit reveals that Depape confirmed he was targeting Nancy Pelosi during the home invasion and attack and had plans to do horrible things to the House Speaker once he found her:
DEPAPE stated that he was going to hold Nancy hostage and talk to her. If Nancy were to tell DEPAPE the 'truth,' he would let her go, and if she 'lied,' he was going to break 'her kneecaps.' DEPAPE was certain that Nancy would not have told the 'truth.' In the course of the interview, DEPAPE articulated he viewed Nancy as the 'leader of the pack' of lies told by the Democratic Party. DEPAPE also later explained that by breaking Nancy's kneecaps, she would then have to be wheeled into Congress, which would show other Members of Congress there were consequences to actions. DEPAPE also explained generally that he wanted to use Nancy to lure another individual to DEPAPE."
I guess Junior had a sudden change of heart, huh?
Read the full FBI affidavit here.
Featured image via screen capture 
Can't get enough Political Tribune? Follow us on Twitter!
Looking for more video content? Subscribe to our channel on YouTube!