New York Attorney General Letitia James' recent announcement of her bombshell lawsuit against ex-President Trump, his family company, and his eldest three children seemed to serve as a stark reminder for the world, and for the Trump family on a more personal level, that the former president's kids are not immune to the repercussions of the crimes and transgressions they committed while serving as their daddy's henchmen.
That reminder is ringing even clearer, on the heels of a bombshell 60 Minutes interview with Denver Riggleman.
If you aren't yet familiar with Denver Riggleman — He's an ex-military intelligence officer and former Republican congressman from Virginia who formerly served as the senior technical adviser for the January 6 Committee. Riggleman was responsible for overseeing a high-key data-driven operation for the House Select Committee that included tracking down phone records and various other pieces of digital evidence that aided the House Panel in their investigation into the deadly Capitol attack, as Donald Trump's personal role in inciting the violence on that fateful day. Denver worked with the January 6th House Select Committee until April.
Denver was the individual who was responsible for blowing the lid off an alleged phone call that was placed to a Capitol rioter, from inside the Trump White House, on the day of the infamous, deadly Capitol attack.
CNN has since released a report, exposing the identity of the individual that the alleged Trump White House phone call was made to — one Anton Lunyk — a 26-year-old Brooklyn-based Trump supporter. CNN reports that Lunyk has already left the Capitol building on that fateful day, by the time he received the call from the White House.
Stay up-to-date with the latest news!

Subscribe and start recieving our daily emails.
The report claimed that the phone call only lasted 9 to 10 seconds and insiders with the J6 House Select Committee have since spoken out and heavily downplayed the significance of the Trump White House call.
However, that wasn't the only bombshell revelation to come to light from Riggleman's explosive 60 Minutes interview, nor was it the only phone call to fall under intense scrutiny in the process of the House Select Committee's investigation.
Riggleman claimed that multiple Trump Administration-connected cell phones were sending and receiving calls and text messages on and around January 6th, 2021 — belonging to the likes of Mark Meadows, Cassidy Hutchinson, and even Ivanka Trump. Riggleman went on to claim that were was so much data related to these January 6th communications, that he and his team, while working for the J6 panel, had to put together a sort of visual representation of the countless texts and calls in an effort to connect all of the dots. The data ultimately came together in the form of a line graph that Denver dubbed "The Monster" — showcasing startling connections between Capitol insurrectionists and some of the most notable insiders within the Trump White House.
You can see a screen capture of that graph here: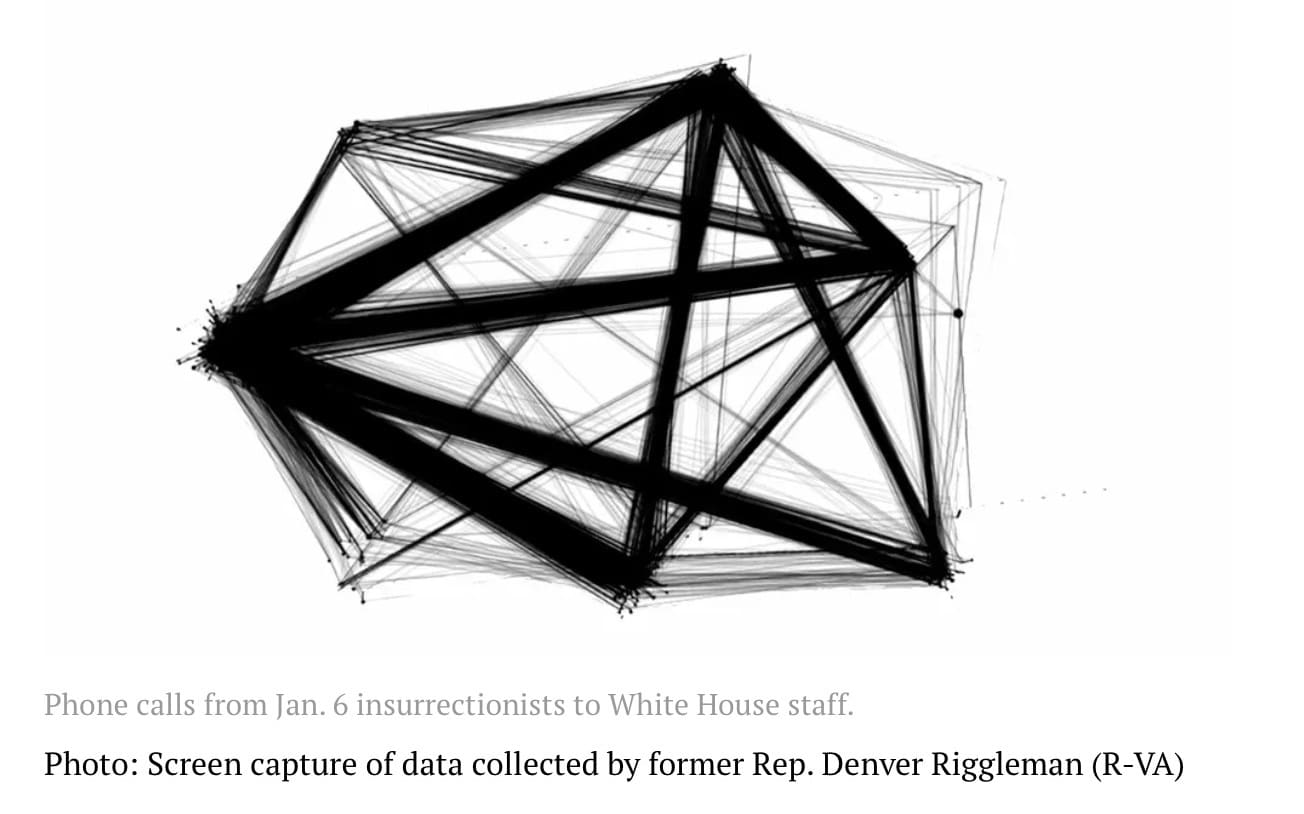 In the 60 Minutes interview, Riggleman explained:
Six pretty big centers of gravity or six groups that we looked at and really it came down to Trump team, Trump family, rally goers, unaffiliated DOJ charged defendants, Proud Boys and Oath Keepers, and others which are state legislators, alternate electors, things like that. When you have those six groups of people you can look at the connections between them."
The thick lines in the graph are representative of tens of thousands of calls and communications made between the groups. Riggleman also confirmed that he collected all of the text messages from Trump's Chief of Staff Mark Meadows and put them into a spreadsheet, in an effort to collect data on who was trying to make contact with one of Trump's closest right-hand men.
Denver ultimately cracked a joke about the fact that it seemed as though every living soul in Washington, D.C. somehow had Mark Meadows' personal cell phone number.
"We don't have text content, but we do have is how long they talked, when they talked, that is very important," Riggleman explained of the calls. "And it really does suggest that there was much more coordination than the American public can even imagine when it came to Jan. 6th."
The below screenshot shows the previous graph, zoomed out, and highlights the major connectors between the communications: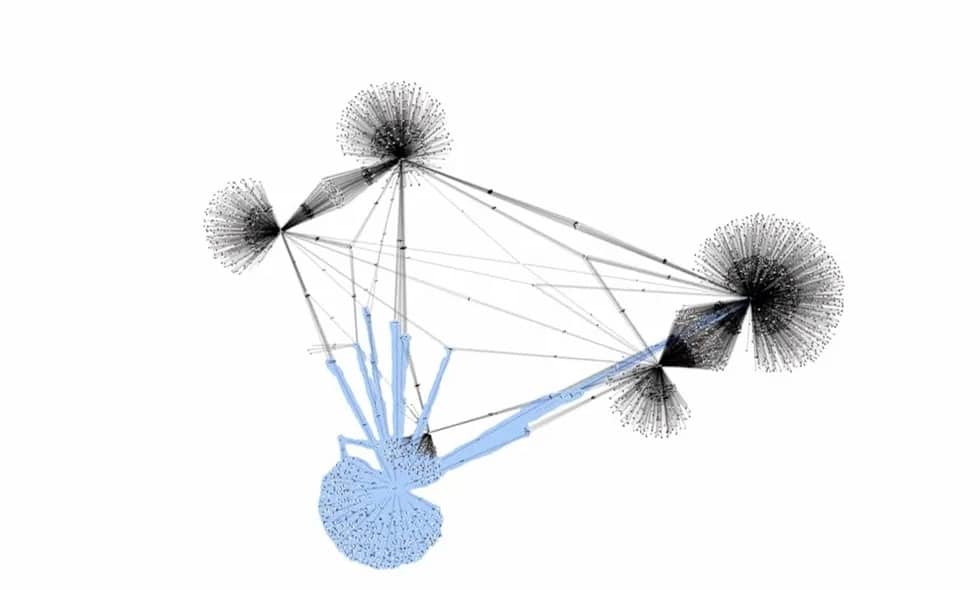 One highlighted connection was five separate calls made in the weeks prior to the deadly Capitol attack that circle back to Bianca Gracia, a notorious QAnon organizer who was notably present at the January 5th parking lot meeting between the Proud Boys and Oath Keepers.
Riggleman explains, "And when you have the White House switchboard and certain other cell phone numbers connected to Bianca Gracia that is a link that needs to be investigated. The thread that needs to be pulled identifying all the White House numbers and why we have certain specific people, why they were talking to the White House."
Rep. Zoe Lofgren, a member of the J6 Panel, spoke with CNN and claimed that every piece and part of the data and information collected by Riggleman and his team on the Committee's behalf has been looked into and included in their ongoing investigation.
Watch the clip of Denver Riggleman's explosive 60 Minutes interview here:
Featured image via screen capture 
Can't get enough Political Tribune? Follow us on Twitter!
Looking for more video content? Subscribe to our channel on YouTube!