Trump has undeniably had a terrible few weeks — between the disastrous failed "Red Wave" midterm elections to the lack of support for his "low-energy" 2024 presidential campaign launch, to the numerous investigations, probes, and lawsuits that continue to rage against him from every conceivable direction — and it seems things are just continually going from bad to worse for him with each passing moment at this point.
As such, the man is beginning to come completely unglued in a very public manner, for all of the world to see.
Recently, Trump saw one of his most brutal losses to date when the United States Supreme Court handed down a brutal ruling that not only refused to intervene on Trump's behalf to block the release of his tax returns to Congressional investigators, but also the SCOTUS' refusal to even hear the ex-president's incessant lawsuit that is still aimed at overturning the results of the 2020 presidential election.
As a result, Trump put his downward spiral on public display when he took to his struggling Truth Social platform to openly rage about his perceived victimhood.
Stay up-to-date with the latest news!

Subscribe and start recieving our daily emails.
"Why would anybody be surprised that the Supreme Court has ruled against me, they always do!" Trump whined and raged on Truth Social. "It is unprecedented to be handing over Tax Returns, & it creates terrible precedent for future Presidents. Has Joe Biden paid taxes on all of the money he made illegally from Hunter & beyond."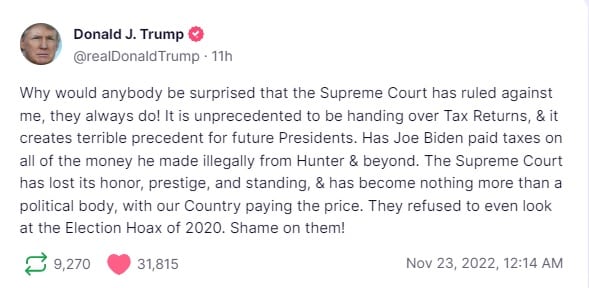 The delivery of presidents' tax returns to Congress or other oversight entities is not, in fact, unprecedented at all. In fact, it quite literally is the precedent, as Donald Trump served as the only US president in a staggering 5 decades to refuse the release of his tax information prior to taking office. Joe Biden's taxes have been publicly available for quite literally years.
"The Supreme Court has lost its honor, prestige, and standing, and has become nothing more than a political body, with our Country paying the price," Trump went on to rage in the same Truth Social post. "They refused to even look at the Election Hoax of 2020. Shame on them!"
To make the whole ordeal that much more brutal and humiliating for the ex-president, Donald Trump personally appointed one-third of the justices who currently sit on the United States Supreme Court that just ruled against him.
In the past, SCOTUS has pretty traditionally ruled in favor of the Evangelical Christian agenda, which, by default, has typically been Donald Trump's agenda. But when it came to the former president's tax returns, even his own political plants wouldn't play along — and it's driving Trump to the brink of insanity.
Featured image via Political Tribune Gallery 
Can't get enough Political Tribune? Follow us on Twitter!
Looking for more video content? Subscribe to our channel on YouTube!